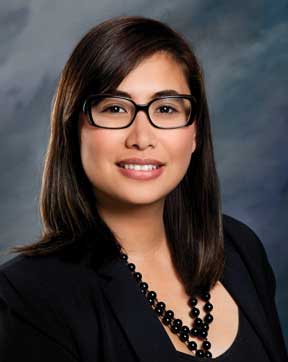 By School of Dentistry - October 15, 2015
Introducing Kimberly LaBelle
The School of Dentistry's Office of Development is very pleased to welcome Kimberly M. LaBelle as its new development coordinator.
Beyond making sense of the Office of Development, tracking its donor gifts, and scheduling its travel, Ms. LaBelle will be in charge of its various philanthropic events, annual giving roster, and related projects.
Ms. LaBelle is one of those people who could have been an air traffic controller, with her ability to multitask and to keep a lot of spinning crockery in the air simultaneously.
She received her college education and expertise in kinesiology at Riverside Community College before jumping into the real estate world for five years as an agent, loan processor, and administrative assistant at Valley View Financial Services. She then subsequently worked in all aspects of real estate (except that of broker) at Highlander Realty.
Ms. LaBelle spent a year as an account executive for advertising at the Press Enterprise (2007-2008), before returning to real estate for three years as an underwriting assistant and conditions underwriter for FHA, VA, and conventional loans, typically working on 30 or more loan files each day.
In 2011, Ms. Labelle joined the Loma Linda University School of Medicine as a development assistant and events coordinator directing events for School of Medicine alumni and arranging all donor/alumni visits for the assistant dean, Office of Development and Alumni Relations.
Remaining with the School of Medicine between 2012 and 2015, Ms. LaBelle served as Medical Student Education Coordinator for the Department of Family Medicine, coordinating all activities for third and fourth-year medical students that included their clinical rotations, site visits and evaluations, exams, and graduation requirements.
But as she joined 2,000 celebrants on Loma Linda University's Good Samaritan quadrangle, July 15, 2014, for the rollout of the LLUH Vision 2020 campaign, Ms. LaBelle realized how much she missed working with a philanthropy team and in the management of various projects.
 "We are really glad Kim has joined the LLUSD philanthropy team," says Tim Sherwin, director, LLUSD Office of Development. "It is already apparent that she has the knowledge, ability, and interpersonal engagement skills to help us surpass our goals."