By School of Dentistry - March 10, 2014
John C. (Jack) Burdick IV, CPA(TN) MBA, has joined the LLU School of Dentistry to fill the role of assistant dean for finance & administration.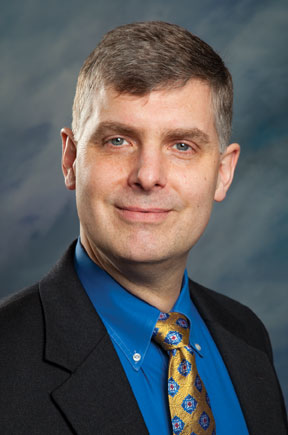 Mr. Burdick will direct the fiscal priorities and operational integrity of the school and will ensure compliance with University policies and procedures. These priorities include preparation and administration of the School's department and program operating budgets, financial analysis, the implementation of financial controls, the development of pay scales, and the delivery of financial communications. He will also represent the school on several LLU financial and human resource administrative committees.
Dean Ronald Dailey, PhD, says, "We are delighted that Mr. Burdick has accepted our invitation to be the new Assistant Dean for Financial Administration for the School of Dentistry. His professional profile includes the academic pedigree, rich experience in academic and hospital accounting, and the personal characteristics and values we were seeking in a new chief financial officer." Dean Dailey applauds a priority expressed by Mr. Burdick to make the dental school finances more transparent.
A financial professional with 24 years of experience in accounting, finance, information technology, and financial aid, Mr. Burdick comes to the School of Dentistry following nearly seven years as senior finance administrator for Kettering College. That position included financial responsibility for 150 employees and adjunct instructors. His management of the college's non-profit finances produced an 11.2 percent five-year margin on $77.1 million revenue. He collaborated with marketing and other business functions to produce a 19.2 percent five-year student enrollment increase, while holding non-payroll expenses to 2007 spending levels, even as he secured salary increases for all employed faculty (beyond annual increases). He also oversaw "clean" audits for 2008 through 2012 and the $2 million renovation of a 45-year-old plant by investing in learning labs, classrooms, common spaces, audiovisual facilities, security equipment, and other infrastructure.
Prior to his experience at Kettering, Mr. Burdick spent four years as director of student financial services at Union College, Lincoln, Nebraska, preceeded by other business and finance positions in the for-profit sector.  These included five years at Scientific-Atlanta, Inc., four years at MCI Telecommunications Corporation, and four years of public accounting in Baltimore, Maryland.
"I very much enjoy working in Adventist higher education," says Mr. Burdick, "and I'm pleased to collaborate with LLU faculty, staff and administration to continue supporting the lasting value that the School of Dentistry graduates demonstrate all around the world."
A Certified Public Accountant (Tennessee), Mr. Burdick earned his Bachelor of Arts degree in economics from the University of the South, Sewanee, Tennessee, in 1987, followed by a Master of Business Administration degree (1989) with dual concentrations in accounting and management information systems from the Vanderbilt University Owen Graduate School of Management, Nashville, Tennessee.
His wife, Janene, graduated from Southern Adventist University, Collegedale, Tennessee, with a degree in education. After teaching for a few years, she transitioned to the business sector.  Having earned a brokerage license, she was an institutional trading desk manager during their time in Atlanta. She transitioned from brokerage to motherhood while keeping up with her interests in marketing and customer service. As an accomplished internet entrepreneur, Janene operates a large eBay toy store. The schedule flexibility allows her to participate in the many school activities of the couple's four children (two sons, two daughters, ages 6-14).
Mr. Burdick is a great fan of professional baseball and football and local minor league baseball. He also appreciates very much classical music and jazz.