By School of Dentistry - October 3, 2013
Eun-Hwi (Euni) Cho, DDS'93, has been appointed director of Educational Assessment and Curriculum Development for Loma Linda University School of Dentistry. In her new role, Dr. Cho will represent the School on the University Assessment Committee, reporting assessment information between the School of Dentistry and the parent institution. Her primary responsibility will be to manage the assessment program at LLUSD and address both the WASC (2020) and CODA (2016) accreditations.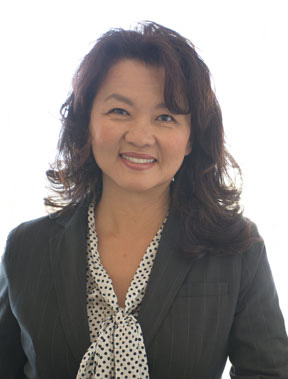 Upon graduating from Andrews University in 1988 with a Bachelor of Science degree in Biomedical Sciences, Dr. Cho took a year before beginning dentistry to serve as director of the Cardiothoracic Department at Oakwood Hospital in Dearborn, Michigan.
While in dental school, Dr. Cho funded her education by teaching piano, serving as a bookkeeper for a local business, and working as a clerical assistant at LLU Finance. She received her Doctor of Dental Surgery in 1993.
She then served as an associate dentist for three years at the Redlands Dental Surgery Center before following her dream of helping to provide oral health care services to the underserved. From 1998 to 2002 she was dental director for Riverside-San Bernardino County Indian Health, Inc. where she was responsible for the operations of four dental clinics, two of which were built under her direction. She also conducted the first ever (and successful) dental JCAHO accreditation for the corporation, and implemented innovative community-based programs for the Indian community.
From there, Dr. Cho served as an associate dentist with the Sonoma County Indian Health Project in Santa Rosa, California, where she was charged with establishing a pediatric dental clinic in an existing medical center.
Dr. Cho then served as a consultant/provider for the First 5 grant in the service of which she established relationships at San Bernardino County's Arrowhead Regional Medical Center where she equipped an operating room, trained staff, and performed surgeries for the First 5 grant patients. She has been since 2005 an associate dentist with the School of Dentistry in its Department of Oral and Maxillofacial Surgery as well as an attending dentist in the Department of Surgery at Arrowhead Regional Medical Center in Colton, California, where she maintains a private practice treating children in the operating room.
More recently (since 2010) she has been assistant professor for Dental Education Services, involved in the School's public health dentistry course, and has been since 2012 lecturer and clinical instructor for the Ryan White HIV/AIDS grant at the SACHS Dental Clinic.
Dr. Cho is married to Richard Cho, DDS'97. The couple reside in Loma Linda with their 14 year old daughter and two sons (11 and 8) who attend Loma Linda Academy. On any given Sunday, the Cho's can be found at a football field, basketball court, baseball diamond or a volleyball gym watching their kids play. On any given Sabbath, you can find them at either the Calimesa SDA Church or the Crosswalk Church.  Dr. Cho still enjoys playing the piano, and turns to Sudoku or the beach for relaxation.