By School of Dentistry - October 7, 2013
Mathew Kattadiyil, BDS, MDS, MS, professor and director, Advanced Specialty Education Program in Prosthodontics, School of Dentistry, and Susan Hall, MD, PhD, MPH, associate professor of medicine, School of Medicine, have received a $50,000 Grants for Research and School Partnerships (GRASP) award to fund a 12-month research collaboration entitled, "Are Bone Turnover Markers Associated With Frequency of Complete Denture Relines?"
Also participating in this project are Shweta Puri, DDS, a third-year resident in the Advanced Specialty Education Program in Prosthodontics and Nishant Puri, MBBS, instructor, LLUSM. The study is also expected to serve as Dr. Shweta Puri's Master of Science degree research project.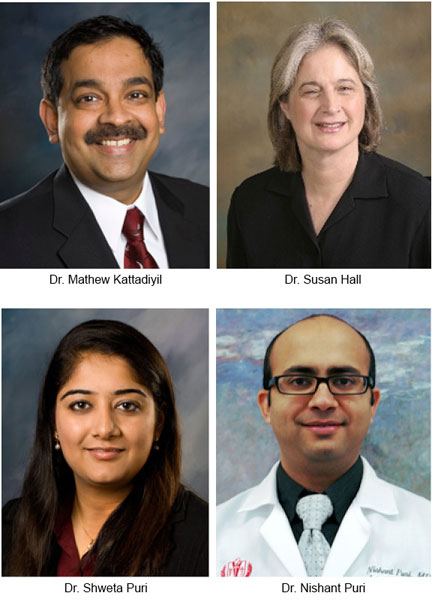 The LLU Health office of research affairs announced on September 3 the seven winners of GRASP awards from among twenty-four applications received from 43 different co-investigators that were reviewed by a panel of senior researchers.
The purpose of the research that Drs. Kattadiyil and Hall have proposed is to determine whether there is a correlation between the frequency of relines for complete denture patients and serum resorption markers and Vitamin D blood levels. Following a retrospective review of complete denture patients the researchers expect to enroll and follow 100 patients. If a significant correlation exists between the frequency of relines and bone resorption markers levels, resorption levels could serve to determine the best candidates for complete dentures versus dental implants, identify patients at risk for osteoporosis/osteopenia, and identify those patients who could decrease their relining frequency and dental care costs through Vitamin D supplementation.
 "Our goal is to encourage collaborative research between various parts of the institution," says Anthony Zuccarelli, PhD, associate vice president for research.