By School of Dentistry - January 25, 2011
The Inland Empire's print and broadcast media have been consistently generous about running public service announcements for dental and dental hygiene student's board patient screenings and for the School of Dentistry's annual Clinic With A Heart.
This year one of the two major newspapers for the area also reported on the School's 21st Clinic With A Heart. San Bernardino Sun staff writer Debbie Pfeiffer Trunnell covered the event. Her report is reprinted with permission.
Clinic fights cavities
Dental school offers free work at event
Debbie Pfeiffer Trunnell, Staff Writer,
Posted: 01/23/2011 03:43:21 PM PST
LOMA LINDA - Paul Salazar and his two children arrived at the Loma Linda University School of Dentistry at the crack of dawn Sunday with the hope of getting seen by a dentistry student.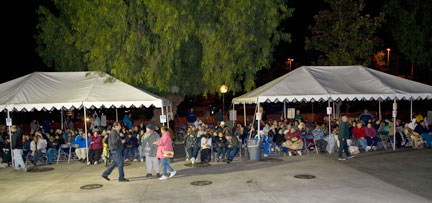 The San Bernardino family joined hundreds of others at the school's 21st annual Clinic With a Heart, which provides free dental care.
"I know Loma Linda has an excellent dental school, and this also helps us out financially," said Salazar, as he watched his son get a tooth extracted.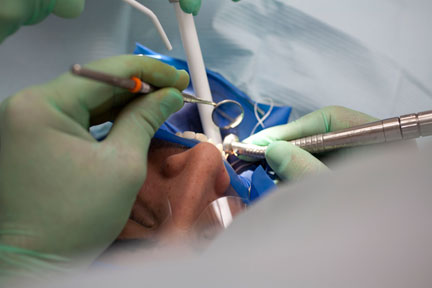 Around 300 people were seen and 225 turned away at the clinic, which kicked off with registration at 6:30 a.m.
The procedures included cleaning, fillings and extractions. There were no crowns, root canals or dentures performed.
The clinic was started in 1989 and continued annually, with the exception of one year, at the urging of Dr. Leif Bakland.
At the time, Bakland wanted to put on a clinic for people who couldn't afford very much.
Since then, the clinic has provided about $450,000 in dental services.
This weekend, people started lining up at 8 p.m. Saturday night to ensure that they would be seen Sunday.
Once inside the school, volunteer nursing students checked their blood pressure, and dental assisting students examined them.
In the pediatric-care area, Lauren Gutenberg, a first-year pediatric dental resident, worked on Joseph Salazar's teeth, while Joseph's dad, Paul, looked on.
"This is really important for the children," Gutenberg said. "It prevents disease and pain and gives them a better quality of life."
International students and others with more dental experience worked in other areas of the building.
Justin Libby, a fourth-year dentistry student, appreciated the hands-on training and the opportunity to help.
"This is great exposure for all the students," he said, as he worked on Nick Yniguez of Fontana.
Yniguez, who doesn't have health insurance, said he was glad to finally get relief from the pain caused by a chipped tooth.
"It would have cost me hundreds of dollars to go to a dentist, so this is great for people who can't afford it," he said.