By School of Dentistry - March 30, 2011
Alisa Wilson, RDA, manager, infection control/safety coordinator, challenged the Dentistry Class of 2014 and the Dental Hygiene Class of 2012, during her September 21 presentation on infection control/safety, to find and identify a specific Occupational Safety and Health Administration (OSHA) violation in a training video. Five students accepted the challenge. One successfully identified the OSHA violation and was awarded a prize of $50.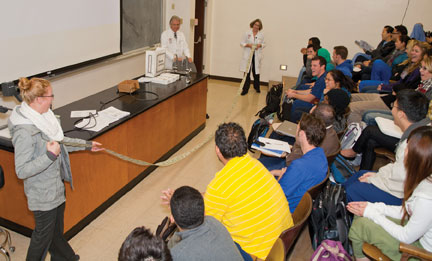 At the end of the class session, Ms. Wilson; Leigh Ann Evans, educational support specialist; Daryl Osborne, multimedia specialist; and Steven Morrow, DDS, MS, director, patient care services & quality assurance, congratulated Melissa Eek, Dental Class of 2014, and presented her with 50, taped together one-dollar bills that she pulled, like magician's scarves, from a box.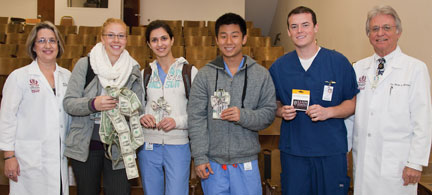 Two of Ms. Eek's classmates, Michael Lim and Yeganeh Parhizkar, each were presented with $26 (five five-dollar bills and a one-dollar bill) folded in the shape of a shirt, for being the first to score 100 percent on their Infection Control test; and a third, James Gordon, was acknowledged with a $25 Claim Jumper gift card for his professional behavior and follow through regarding a technical issue.
All students attending the infection control/safety lecture passed the infection control/safety test with five scoring 100 percent.