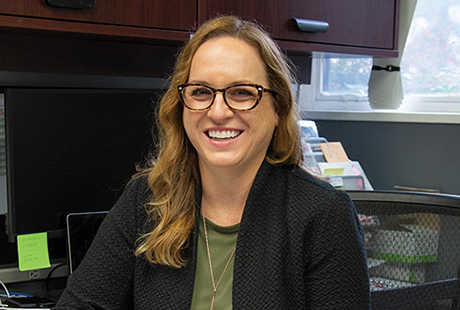 By Douglas Hackleman - May 11, 2020
Holli Riter, DDS'98, associate professor, Division of General Dentistry, and director, Clinical Quality Assurance, was appointed Chief Medical Officer for Special Care Dentistry in September 2019.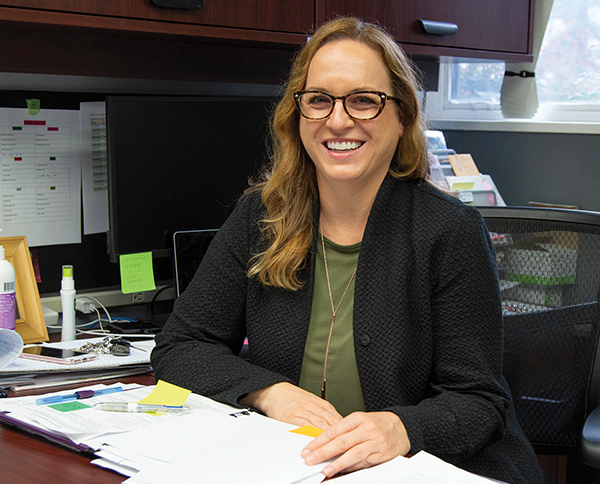 Dr. Riter at her Koppel Special Care Dentistry  Center desk
Dr. Riter has worked one day each week for fifteen years in the Koppel Special Care Dentistry Center (KSCDC) she now administers, providing dental care on a weekly basis for children and disabled adults unable to accept care under normal circumstances and who require general anesthesia for their dental care.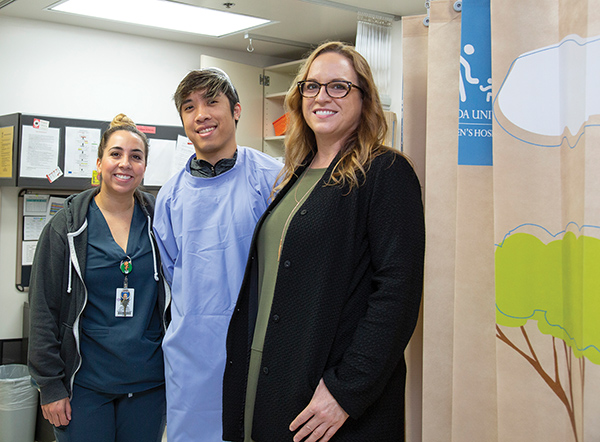 Amanda Staley, RN, and Tim Ebuenga, RN, work regularly with Dr. Riter
An LLUSD faculty member since 2005, Dr. Riter will maintain her responsibilities as director of Clinical Quality Assurance, a position she first was assigned January 2018.
KSCDC, a Joint Commission-accredited and CMS-certified outpatient ambulatory surgery center, manages a flow of approximately 3,600 patients each year. But Dr. Riter says the KSCDC's "great staff has made my transition comfortable and effective."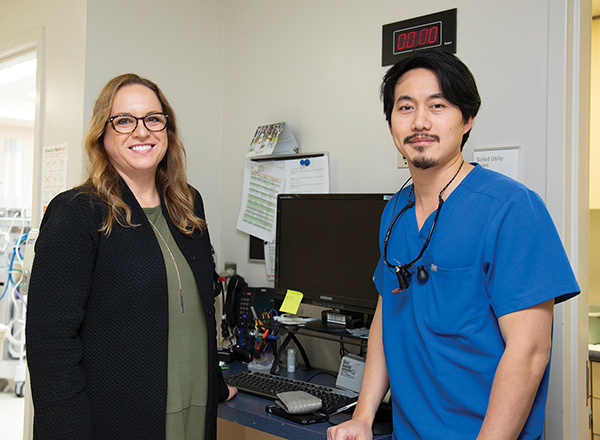 Dr. Riter with Kiddee Poomprakobsri, DDS'12, MBA, dental clinic specialist, Division of General Dentistry
Dr. Riter finds it meaningful that the Center "meets a need that very few dental offices can address—a large population of kids who need so much work done that it is only practical to use sleep sedation to accomplish their restorations in one visit."
The facility is over 2500 square feet and includes four operating rooms and a recovery room where each patient is monitored by a registered nurse as they wake up from general anesthesia.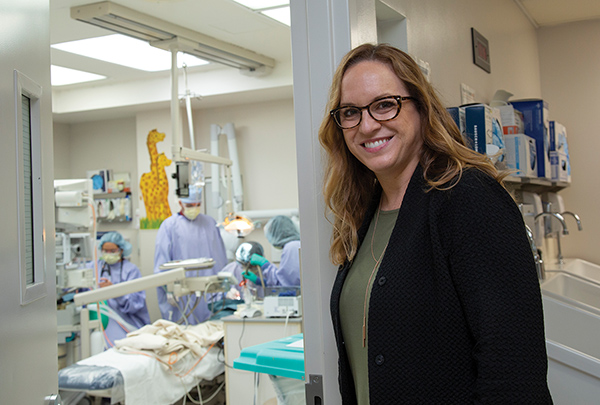 Dr. Ritter looks in on a busy KSCDC clinic operatory.
Koppel Special Care Dentistry Center serves special needs patients from throughout Southern California and accepts many insurances, including DentiCal, which means the Center's clinicians are able to see many patients that otherwise would have limited dental care options.
Beginning in 1976, LLUSD operated a hospital dentistry department housed within Loma Linda University Medical Center, where it provided dental treatment utilizing general anesthesia for patients whose conditions or disabilities made conventional dental treatment difficult. In 1988, Hospital Dentistry was closed and became the Surgery Center for Dentistry. Then in the year 2000, the Center moved to its current, first-floor location on the northeast corner of Prince Hall.
Seven years later (2007), out of appreciation for a very generous gift from Albert Koppel, DDS, and his wife, Elizabeth (Betty) Adams Koppel, MD (CME class of 1943), LLUSD dedicated the facility as the Koppel Special Care Dentistry Center.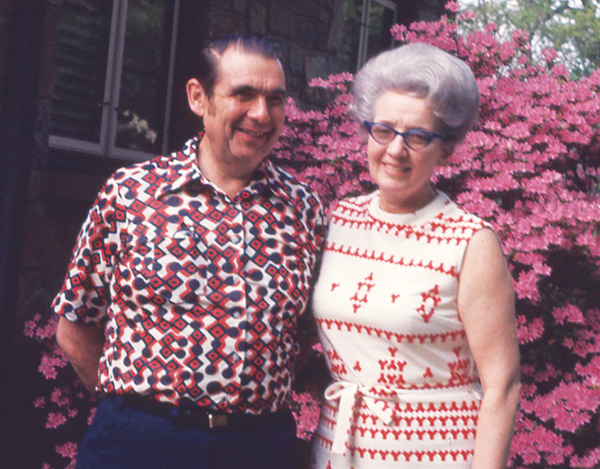 The Drs. Koppel late in their professional careers
For years LLUSD's Advanced Specialty Education Program in Dental Anesthesiology enjoyed the advantage of an in-house heritage that boasted Neils Bjorn Jorgensen, DDS, internationally revered dental researcher who taught at the School from 1954 to 1974 his ground-breaking technique of combining intravenous sedation with local anesthesia to minimize patient apprehension and pain. Dr. Al Koppel spoke fondly of training with Dr. Jorgenson in 1959 and how intravenous conscious sedation changed his life and the entire profession of dentistry.
Dr. Koppel spent the Korean Conflict as a Captain in Wurzburg, Germany, where he was the designated oral surgeon for the Army's 10th Field Hospital. At the conclusion of his Army service, he took a 12-month internship in oral surgery, before settling with Dr. Betty Koppel in Takoma Park, Maryland, where he bought a dental practice four blocks from the SDA General Conference headquarters and its Review and Herald Publishing plant. It was during this time that Dr. Al Koppel served as a visiting instructor in the oral surgery department of Loma Linda University's new School of Dentistry. He invited his father, "Pop" to match his $1,000 contribution to the new school. To his amazement, the gift was forthcoming, Dr. Koppel recalled, from the father who had not wanted him to take dentistry.
Dr. Al Koppel during a 2013 visit to LLUSD
During Dr. Al Koppel's 40-year practice as the unofficial dentist of the General Conference, Dr. Betty Koppel's anesthesia training served to make her husband, in the early 1960s, one of the first dentists to practice IV sedation on patients who found sitting calmly for lengthy or difficult procedures problematic. The Drs. Koppel long and successful practice earnings and the legacy left by "Pop's" generosity to them, allowed Drs. Al and Betty Koppel to forward blessings that they had received to the SDA Church and the Loma Linda University School of Dentistry.
Before Dr. Betty Koppel's death in 2013, the couple utilized Loma Linda University's Office of Planned Giving and the Foundation Trust Administration Department to develop and execute a number of charitable unitrusts, gift annuities, and revocable trusts.  Through these deferred gifts, they planned for income to their children as well as benefits to LLUSD. Although because of considerations for their heirs the ultimate value of the Koppel's generosity will not be fully realized for some time, through a series of matured planned gifts and outright cash gifts, the Drs. Koppel have donated multi-millions of dollars for areas of dentistry that provide the underserved.
In addition to their provisions for Special Care Dentistry, the Drs. Koppel have set up perpetual endowments for the School's International Dentist Program and the Mobile Outpatient Dental Clinic. The International Dentistry endowment provides scholarships to foreign dental students. The Mobile Outpatient Dental Clinic helps to fulfill Dr. Al Koppel's passion for bringing oral healthcare to people who could not come into a dental office for treatment. One of his last acts of generosity was to meet with Dean Robert Handysides, DDS'93, to discuss the purchase of a new Mobile Dental Clinic through his revocable trust.
Dr. Al Koppel, who was the Special Care Dentistry Center's most significant benefactor, died on December 14, 2019, at the age of 101.