By School of Dentistry - August 27, 2010
            Clyde Roggenkamp, DDS, MSD
View tribute video
Harold Ellis Schnepper was born to missionary parents in Puiggari, Argentina, south of Rio de Janeiro, Brazil, on December 16, 1923. His father, Otto, was a Seventh-day Adventist minister and his mother, Myrtle, was a voice teacher at the mission school. Conditions were Spartan; and with the nearest hospital too distant to be accessible, baby Harold was born in a girls' dormitory room at the Platt River School in Argentina where he was delivered by well-known missionary physician, Dr. Carl Westfall.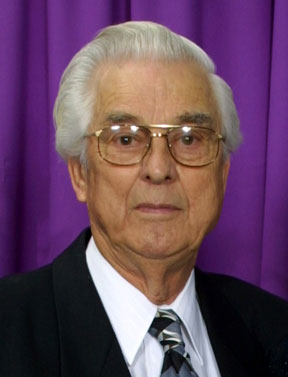 At the time of Harold's birth, his father was away on an important trip to the interior of Paraguay. When he returned home nine days afterward, Harold's birth had not been registered with the local government, a lapse that initiated a late fee of 50 pesos. To the young missionary family the fine seemed exorbitant. The only way around it was to make out Harold's birth certificate for the same day that his father arrived at the registry. As a result, to this day his officially registered Argentine birth certificate date is December 25—nine days after the fact.
When the Schneppers returned to the United States, Harold was five years old and spoke fairly fluent Spanish. The climate where they had been living was subtropical and they weren't accustomed to cold weather. Harold recalled walking to the store with his older brother, John, in the winter not very long after they arrived in Tonasket, Washington. The boys were intrigued by some crystal clear glassy layers they found on ground-water puddles along the way, so they naively tucked a few souvenir pieces in their pants pockets. By the time they reached home to show their mother what they had found, no "glass crystal" remained, instead their pants were all cold and wet where the pieces had been. She was amused and explained to them for the first time about how ice forms when the winter weather drops below freezing.
Harold's father pastored for four years in the Upper Columbia Conference at Coeur d'Alene, Idaho, a district with eight churches, before being called to another district with a similar number of churches in Lewiston, Idaho. Harold remembers how busy his father was, delivering the first-service sermon at one church then rushing to deliver the second-service sermon at another church week after week. Following this, his father was called to teach Bible at Yakima Valley Academy in Granger, Washington, where he taught four Bible classes, one for each of the freshman through senior years.
Other close family relatives were devoted to ministerial work as well, including one of his father's brothers who served as Pacific Union Conference president until dying in office several years before retirement age.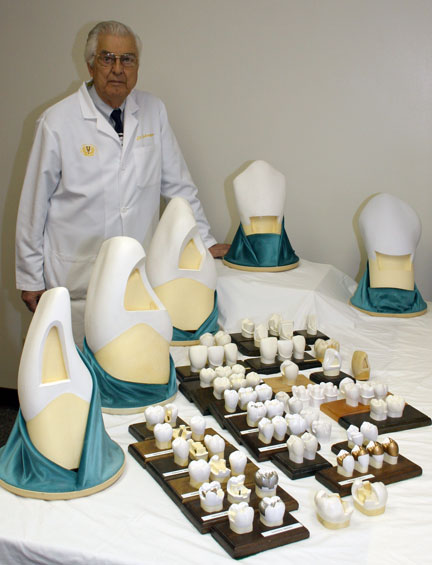 Harold's older brother, John, graduated from Yakima Valley Academy at the age of 16, then went off to college to take pre-medicine requirements. Harold finished the academy in three years, before completing his premed requirements at Walla Walla College in two years. School was expensive and finances were austere, but his mother was eager for him to receive an education. He recalled how she taught Spanish in school and worked part-time as a seamstress so she could mail him her un-cashed paychecks to help meet his college expenses. Being deeply sensitive to the sacrifices she was making on his behalf, Harold pleaded with her at least to cash the checks first and keep some money for herself.
Dental school and early practice
Shortly after Pearl Harbor, December 7, 1941, John Schnepper entered medical school at the College of Medical Evangelists in Loma Linda, California. Harold also was accepted to medicine and would have followed his brother except that the beginning day for medical school fell after the mandatory draft induction date for the Army. With the seriousness of WW II at that time, no deferments were allowed. He was, however, finally able to avoid the draft by entering dental school, the first day of which preceded the draft deadline.
Harold faced an abrupt transition as he finished his final class at Walla Walla College on a Friday and drove 300 miles to Portland, Oregon, to begin classes at the North Pacific College of Dentistry the following Monday morning. His game plan was to begin dental school and switch over to medicine later, but he subsequently discovered he was quite well suited for dentistry and stayed with it. There were at least a dozen other Seventh-day Adventist students in his dental class. From this group, Harold Schnepper and Lloyd Baum were the only two destined to help open the new dental school that would begin in Loma Linda, California seven years later.
Harold graduated from dental school in 1946 at the young age of 22. The school changed its name that year, so the doctoral diplomas for his dental school graduating class were the first to bear the name, University of Oregon. At that time the dental school was graduating two classes per year. Dr. Lloyd Baum graduated in group "A," along with Harold in February. Dr. Melvin Lund, who also later joined the faculty at Loma Linda School of Dentistry, graduated in group "B" the following October.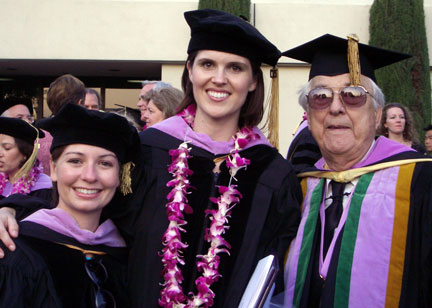 When asked where he wanted to practice after graduation, Harold always said, Coeur d'Alene, Idaho. During his senior year, however, he learned that it required a separate state licensure board examination. So instead, after graduation, in the summer of 1946, Harold practiced with another Seventh-day Adventist dentist in Prosser, Washington, for four months before buying his own practice in Everett, Washington, north of Seattle. During this time he also served as half-time professor at the University of Washington School of Dentistry. His new practice was located on the fifth floor of a medical-dental building with an impressive view of the Olympic Mountains, Puget Sound, Mt. Rainier, and Mt. Baker. Harold recalled once trying to place a rubber dam on a patient in this office when the retainer he was seating unretained itself, suddenly sprang off the tooth and sailed directly out the partly-opened office window to the pavement five stories below. Needless to say, he didn't go after that one.
to join new dental school at CME
Harold was called in 1952 to serve at Loma Linda University as a full-time faculty member in the new dental school that was being planned. Dr. Webster Prince personally sought him out and visited him in Everett. "I don't know who's going to be dean, but I've been asked to select a faculty and wonder if you'd be willing to come," he said.
Dr. Prince, who shortly thereafter did become the new dean, insisted that all Loma Linda University dental school faculty have a master's degree before they could begin. Harold asked if there was a way he could work on the degree after starting to teach, but that was not acceptable. He earned his master's degree in restorative dentistry at the University of Washington, working partly as a teaching faculty member and partly as a student. While he was there, the school offered its first refresher course, which happened to be on gold foil restorations. Harold's first real exposure to gold foil in a postgraduate environment made a lasting impression on him. After observing for one year a study group directed by Dr. Walden I. Ferrier, Dr. Schnepper was invited to join a new group, under the mentorship of Drs. Ralph Plummer and Dan Spratley, devoted entirely to gold foil dentistry that they euphemistically designated the "University Ferrier." The now-classic Class V gold foil restoration outline was named after its designer, Walden I. Ferrier. Bruce Smith and Harold Schnepper were the ones chosen to represent their study club at the very next associated meeting of all the dozen or so gold foil study clubs in that area. This was a significant honor that helped shape Harold's attitude and standards of excellence.
Signs of God's leading
Harold and his wife Clara often reflected on the Lord's continual leading in their lives. In Everett, Washington, when first looking around for a practice, they were driving in a twelve-year-old (1934) Plymouth through a pass in the Snoqualmie Mountains. It had been snowing heavily and around midnight their car became hopelessly mired in the accumulating white stuff. The car wouldn't budge and there was nothing they could do but sit there. Together they prayed and waited in the dark, cold night with no other cars in sight. As they faced a dangerous, freezing night stranded in their car, a tow truck appeared about an hour or so later and asked them if they needed help. To them it seemed a miracle. The driver of the rescue vehicle said somehow he had felt impressed to drive up through the pass to check if any motorists might be stuck in the snow, and graciously towed them back to the comfort and safety of their Everett home.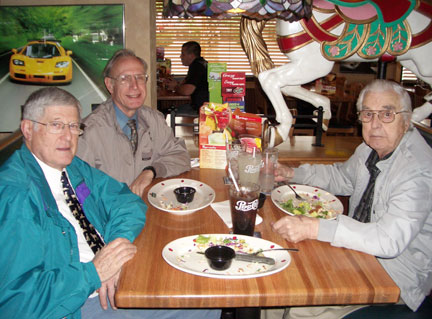 A dental supply company representative learned of Harold's desire to find a practice along the coastline and gave him the name of a dental office that was looking for an associate dentist. When he went to inquire, however, he became deeply disappointed. It was obvious from signs posted outside their office that these were full-blown advertising dentists, practicing clearly what was then outside ethical limits for the profession. When Harold informed the detail man that he unfortunately would not be able to practice in that office, the man suggested contacting Dr. Harvey Walter, a dentist in Everett, Washington, with an office on the fifth floor of a larger medical-dental building. This worked out well with Harold as the junior partner. After two years he bought the practice, and, swapping roles, Dr. Walter became the junior partner.
When Dr. Prince attempted to recruit him to teach at the new school in Loma Linda, Harold and Clara were very content where they were. It would not be easy to leave a successful practice in such an ideal location. Besides this, the California State Licensure Board would be next to impossible for an out-of-state candidate to pass. The young couple prayed earnestly together for God's guidance in this difficult decision after which Harold finally arranged a Gideon test—"Lord, if you want me to teach at Loma Linda University, see to it that I pass the California State Licensure Board examination on my first try." With no real chance for preparation prior to taking the exam, it seemed like a true miracle six weeks later when the returns arrived and Harold had passed. When the Schneppers put their house up for sale, the first person to look at it bought it. This they took to be a further sign that going to Loma Linda was the right thing.
Harold joined the faculty at the new Loma Linda University School of Dentistry in the 1953-1954 school year. His first teaching class started in 1954. He remembers a young Bob Kinzer in his class who he employed as a student to wax up his private-practice crowns for five dollars each. After his graduation, Dr. Kinzer became a respected teacher at LLUSD.
Harold was the Restorative Department chair from 1967 to 1969. Although he was employed full-time with a twice-monthly paycheck of only $187, because he had children in school, there was a temporary need to reduce his teaching schedule in order to earn more money in private practice.
Once Harold and Clara made the move from Everett, Washington, to California, they remained permanently in the Loma Linda area. In fact, Dr. Schnepper's continual teaching service was perhaps the longest of any current LLUSD faculty members. The school is indebted to him for fashioning a treasure trove of dental teaching models that illustrate teeth with various cavity preparation designs carved out of dental plaster or stone. These models accurately reflect preparation designs being taught at LLUSD and are painted to match the natural dentin and enamel of real teeth. Harold had been carving this series over a period of many years, mostly at his home and often during summer vacations at the beach, until now there are well over 200 mounted demonstration models, including over 300 individual tooth models. Some are rather sizeable, including several gold foil teaching models of anterior teeth that are mounted on revolving bases and stand over a foot tall.
Tangible, three-dimensional models convey preparation details in ways that words and textbook illustrations cannot. Students appreciate observing them, and laboratory instructors notice that student conformance to standards on lab projects is generally enhanced when Harold's illustrative models are available.
Setting the standards for excellence
Gold foil instruction was prominent in the earlier days of the dental school because, among other things, it was a significant part of the state board clinical requirement. Harold was a pioneer in developing the lingual-approach class III gold foil restoration. Up to that time, all anterior teeth fillings were placed from the front, which usually left a small crescent of gold showing at their interproximal edge. In order to achieve necessary angles of operation for this revised lingual approach, he designed four, special, back-action hand instruments. These instruments can be seen on display in the glass wall cabinet in the hallway outside the Restorative Department entrance on Prince Hall's first floor.
Harold's extraordinary dedication to direct gold dentistry was shown by the fact that he mentored the Loma Linda Gold Foil Study Club for 35 years. He and Bob Kinzer co-authored the first comprehensive manual of gold foil techniques that detailed the basic principles and latest esthetic modifications of cavity preparation design. This book achieved international recognition, and has subsequently been translated to other languages, including Japanese and German.
Helping to establish his reputation for excellence in direct gold procedures, Harold accomplished over 50 gold foil restorations by the time of graduation from dental school. In his senior year, one of his patients received class III gold foil fillings in her front teeth that are still serviceable today. Recent photographs attest to the quality of these restorations after 64 years, and he still has the original appointment book page to show the date and time of that treatment.
Harold consistently attended national dental meetings. He took a certain amount of pride in his 40-year, unbroken string of attendance at the Chicago midwinter meetings. His ardent advice to dental graduates is to join at least one dental organization in their special area of interest and become actively involved as officers. His desire is to have more Loma Linda graduates leading in the profession at national and international levels. Harold laments that in past years relatively few LLUSD graduates either had attended or served as officers in such groups as the Academy of Operative Dentistry, the American Academy of Gold Foil Operators, or the American Society of Prosthodontists. The exchange of valuable insights and personal contacts made at these meetings provide rewarding dividends in professional growth and enhanced recognition beyond the scope of everyday practice or teaching.
His lifelong professional dedication exerts a continuing influence that would seem almost hereditary: one son, Douglas Schnepper, graduated from LLUSD in 1974; another son, Jim, recently retired as Public Health Program Coordinator in Riverside County, California; his granddaughter, Gretchen Schnepper (Doug's daughter), graduated from LLUSD in 2003, and earned her Masters degree in orthodontics at the School in 2005; his grandson, Gretchen's brother, is currently a student in the LLU School of Medicine. Harold also has two grandnieces who took dentistry at LLUSD: Michelle Hoag, SD'08, and Heather Lauer, SD'03, MS'05. A more distant cousin on his wife Clara's side of the family is Amanda Roper SD'07.
Harold served two years as the chair of the LLUSD Restorative Department. His spirit remained strong, despite the loss of two extremely close family members in recent years: his son Doug and wife Clara.
Until his death on August 4, 2010, Harold shared his years of personal experience and expertise with students and faculty members as an instructor in the laboratory portions of several classes, in which he taught three half-days per week. His sole striving for excellence was always contagious and students appreciated his congenial, knowledgeable assessment of their work. As a seasoned teacher, it seemed against his nature to be satisfied with minimal efforts just barely to get by. If students asked, "Is this good enough," he would often reply, "Is this the best you think you can do?" If not, he'd thoughtfully suggest bringing their project back again later when it actually demonstrated their best work. 
True greatness lies in daily excellence, mastered consistently over a lifetime. In many endearing ways, Dr. Harold Schnepper's professionalism represents a legacy of the School of Dentistry, and LLUSD was certainly fortunate to benefit by his 56 years of invaluable service.