By Anonymous - March 17, 2015
The Center for Dental Research's expanded facility employs cutting-edge, "state-of-the-art" technology and equipment
There was an enormous red bow on the ground floor, north-facing windows of the east wing of LLU's Chan Shun Pavilion with a poster sized tag that read, "To the Center for Dental Research team."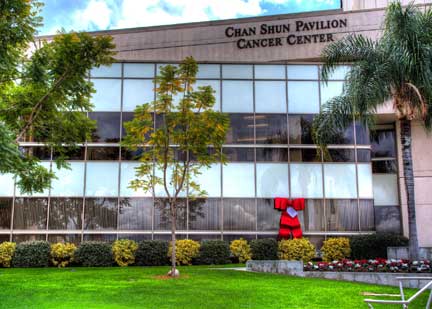 The School of Dentistry's 5,631 square foot expansion of dedicated research space in the Pavilion represents the School's largest capital project since the 2011 opening of its dental hygiene Associate of Science degree program for Dental Hygiene in Palm Desert, and nearly doubles the space devoted to its Center for Dental Research.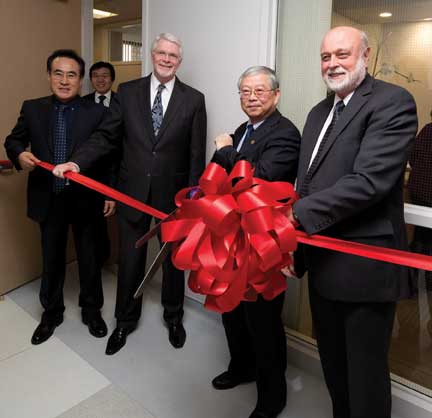 The grand opening was celebrated at noon, Tuesday, February 24, in Loma Linda University Health's Wong Kerlee International Conference Center. Many guests arrived from great distances (as far as China) and high station (university and church administrators as well as captains of professions and industries) to witness the future of scientific progress in oral health care.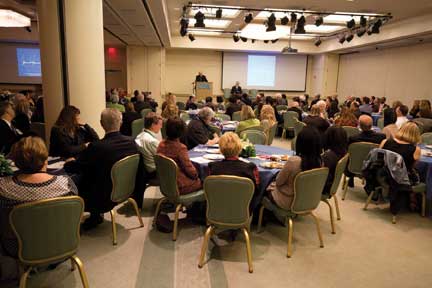 As they dined on what Ronald Dailey, PhD, dean, LLU School of Dentistry, called "good Loma Linda food," he spoke of the "incredible support from the University administration, the School of Medicine, and many other players" that made possible this "very proud day for us."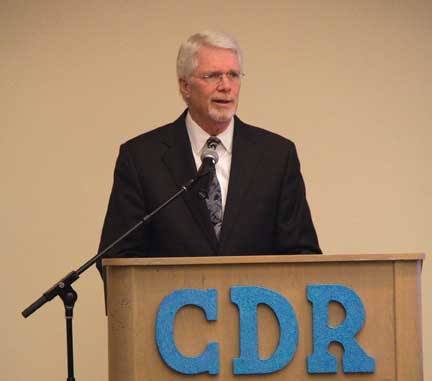 Dean Dailey recognized a number of VIPs in attendance—including the LLUH Board; General Conference President Ted N.C. Wilson, PhD, MA, MS; and Larry Wu, DDS, director, Center for Dentistry at Sir Run Run Shaw Hospital in Hans Lo, China—before introducing four individuals who addressed the assembled guests: Richard Hart, MD, DrPH, president, LLUH; David R. Williams, PhD, MPH, Florence Sprague Norman and Laura Smart Norman, professor of Public Health, Harvard School of Public Health, professor of African and African American Studies and of Sociology at Harvard University, and chair, Research Affairs Committee of the LLU Board of Trustees; Dan Fisher, DDS'74, founder and president of Ultradent; and the man of the moment, Yiming Li, PhD, DDS, MSD, associate dean for Research, and director, Center for Dental Research.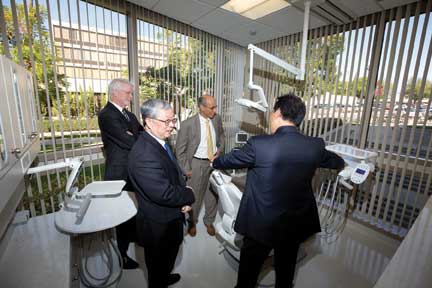 "Making changes on a university campus is something like moving a cemetery," President Hart began. "It is accompanied by a lot of discussion and various pressure points that arise… . This discussion began with how best to use—what was the highest purpose of—" the east wing of Chan Shun Pavilion's first floor. "It is prime space on campus, as you'll see in a few minutes when we walk through [the new facility]. Its proximity to the School of Dentistry," Dr. Hart said, influenced the decision to expand "Dr. Li's Center for Dental Research [and] give it proper space."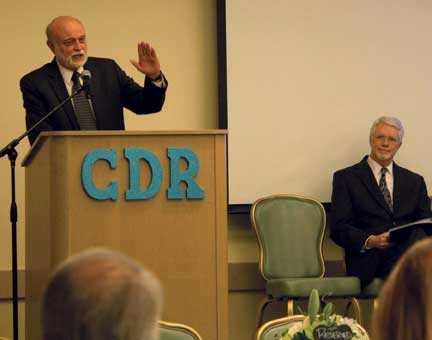 He recalled that the Center for Dental Research had been relegated for nearly 20 years to the old, two-story Loma Linda Motel. "The floors are uneven, the walls sag," he noted, "and so we appreciate the cooperation of the School of Medicine as we've looked to collaborate on the interface between the two schools."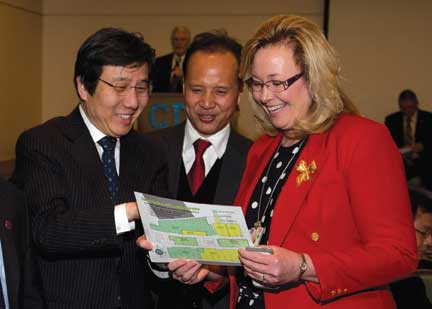 Dr. Hart gave "special credit to Rod Neal [MBA, senior vice president, Financial Affairs] and Ken Breyer [MA, assistant vice president for construction at LLUSS] … as they worked through all the dynamics of this" project. But "the one that is really responsible for this," he said, "is Dr. Yiming Li" who has been "for 18 years on this campus and director of the Center for Research since 2002. And I if you look at the chart of its growth, you will see a steady climb in the amount of research dollars he has attracted to Loma Linda. Yiming has patiently, steadily built the research enterprise at the School of Dentistry to become truly one of our centers for research excellence on this campus," said Dr. Hart. "So I'm particularly pleased today that we can recognize" his diligence "with the space that we're moving into."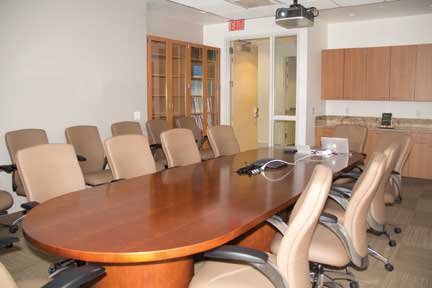 Following a brief introduction by Dean Dailey, Dr. David Williams said the Center for Dental Research "has brought to the University external research funding of well over $16 million and put Loma Linda University on the map through its national and international collaborations with institutions far and wide."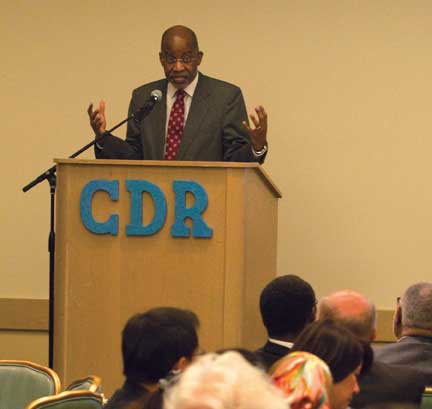 Dr. Williams elaborated briefly on "why research should be important at a Christian university" saying, when "you participate in the process of research discovery, it provides you with an opportunity to better understand … the laws that govern the natural world" and that "reflect the unseen hand and the mighty influence of God… . You don't really fully understand Scripture if you don't take the insight that science is in fact shedding on Scripture, and vice versa… . Rightly understood," Dr. Williams referenced Counsels to Teachers, "each sheds light on the other."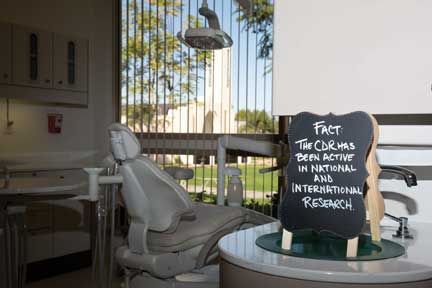 Noting that "our cultural beliefs, values, and assumptions affect the research process" through the "questions we ask" and "how we interpret scientific data," Dr. Williams said that "a Christian university faces the challenge of a world where there is an explosion of knowledge, where there are gems of truth that lie in close association with error. And the challenge for the Christian researcher is to identify those gems and reset them within a broader framework of the Gospel and of all Christian beliefs.
"So we really have high expectations for the future of this research center," Dr. Williams concluded.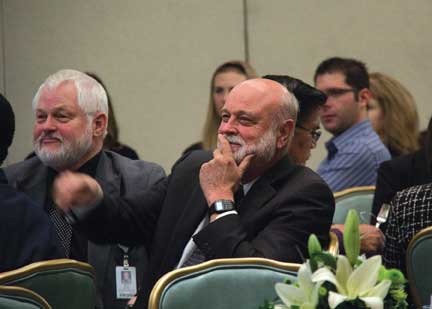 In a press release announcing the Center's grand opening, Dr. Li had written, "Research is a key component of our calling, as it enhances the prospect of wholeness." But it was through remarks by his friend, Dr. Dan Fischer, that the audience learned a little of Dr. Li's impoverished background and "how as a young boy, in the '50s and '60s, he would row his rowboat up the [Yangtze] river to collect the garbage from the restaurants and the like, load it as full as he safely could, and take it back to the family farm for the family's pigs… .  But there was something Yiming got from that," Dr. Fischer emphasized, "Yiming was endowed by his parents with a work ethic."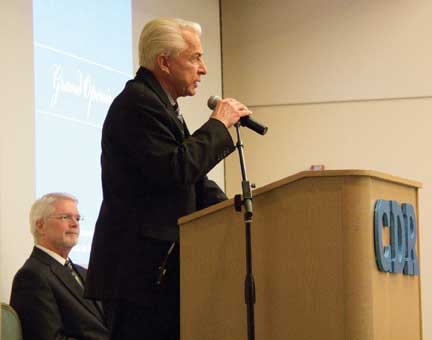 The Ultradent founder reminded the audience of the conversation Henry Kissinger and President Richard Nixon began with China's Chairman Mao Zedong during the early 1970s that resulted in student exchange programs. In the early 1980s, "After three months of extensive testing, Yiming was one of 80-some students chosen to come to America" for the purpose of becoming one of China's top scientists, Dr. Fischer recalled. "He attended the University of Indiana and studied for his Masters in dental materials under the number one dental materials guru in the world at the time, Dr. Ralph Phillips, and then earned a PhD in toxicology materials science." Yiming came in 1982, but he could not bring his wife, Wu Zhang, MD, now LLUSD professor, Dental Educational Services, with him, Dr. Fischer explained. "Wu was kept in China for three years," because of the "fear that Yiming might not come home; and, boy, if anything would bring Yiming back home it would be Wu. He was able to travel back and see her in 1985, for the first time in three years. Then he was allowed to come back for another year, again without Wu."
But their journey had a happy ending. "Thanks to extreme efforts by the University of Indiana, it was made possible for Yiming and Wu to become permanent residents," said Dr. Fischer. "And then, somewhere in the middle to late nineteen nineties, they both obtained their [American] citizenship."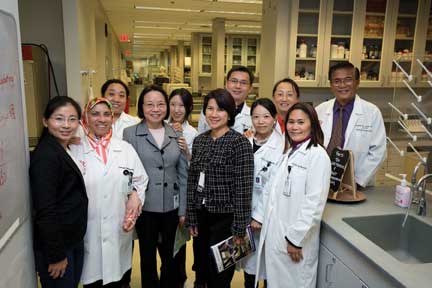 Dean Dailey added to Dr. Fischer's personal remarks some details about Dr. Li's professional life. "One of the noteworthy characteristics of Yiming that I'd like to point out (and accomplishments) is that he has not only been an exemplary colleague but he's also been a mentor and friend to faculty and students in the School of Dentistry for the past 18 years. During his tenure at Loma Linda, he has involved numerous clinical faculty in research projects that have enabled them to apply successfully for a promotion in academic rank. In addition he has helped build the student and resident research programs to a level that has helped our students to garner many state and national awards."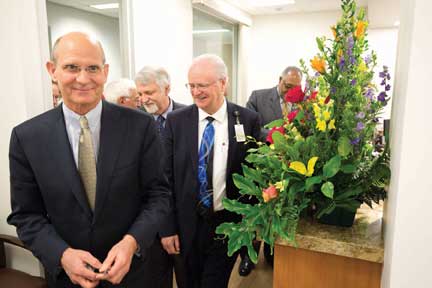 After listing, among other accomplishments, Dr. Li's "110 articles and book chapters, [and]169 abstracts dating back from 1981 to the present," Dean Dailey said, "Dr. Li stands with us today marveling at the third millennium instruments in this strategically calculated laboratory, anticipating the breakthroughs in the oral health care professions that he and his colleagues are now even more likely to achieve."
"Yiming, you are a good friend and a splendid colleague," Dean Dailey concluded.
"We are celebrating the new dedicated research space designed to house cutting-edge, state-of-art equipment and technology that will help our School sustain its top-tier ranking in dental education, patient care and research," Dr. Li began.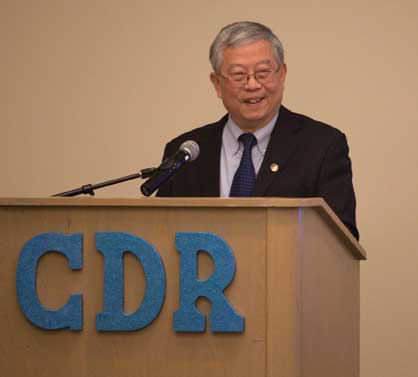 Touting LLUSD's "remarkable legacy of research and profession-advancing innovations," the Center's director referenced a number of stellar examples: Dr. Niels Jorgensen's invention of the 1st intravenous sedation technique in dentistry; a refractory mold material, innovated by Drs. Lloyd Baum and Melvin Lund, that made possible accurate casting of gold crowns without the removal of a wax pattern from a die; Dr. Baum's development of powdered gold to enhance the ease and cost-effectiveness of gold-foil fillings; Dr. Robert James' groundbreaking technique that used radiographic data from a CT scan to create a 3-D replica of jawbones; Dr. Boyne's pioneering work on bone grafts and the use of inert materials to replace missing bone that achieved international recognition; his pioneering use of a cytokine (BMP-2) for bone grafting in animal research, and then, with Dr. Alan Herford, its use in humans; Dr. Herford's advancement of a special transport device for use with distraction osteogenesis that permits bone to be generated using the body's own response to an injury; and the mineral trioxide aggregate (widely known as MTA) invented by Dr. Mahmoud Torabinejad, which helps save teeth that would otherwise be lost, as well as his development of BioPure, an endodontic disinfectant that enhances the success of root canal treatment.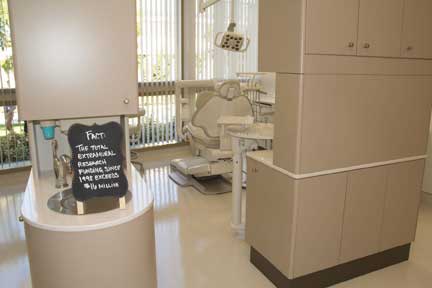 Dr. Li said he "was fortunate to be part of the founding team that worked with Dr. Carlos Munõz, the first director of the Center," and asked him to stand with his wife Jennifer. He noted that "the Center's faculty and staff have conducted around 80 clinical trials and more than 400 laboratory projects sponsored by industry, foundations, and government that total more than $16 million in external funding."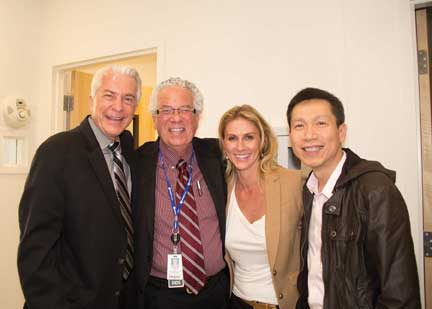 Recognizing "that any space is a premium here," Dr. Li said, "As we revel in the opportunities this new facility provides, we are mindful of the generosity of our benefactors and the leadership of the University and our School… . [And] we are thankful to our sponsors, for their continued partnership in supporting our research endeavors.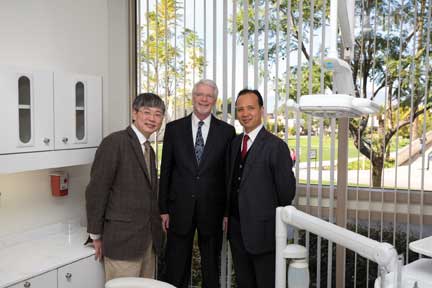 "We are also honored to have collaborators not only in the United States but also a number of other countries, including several NIH-funded and industry-funded international studies in 11 countries and more than a dozen laboratories all over the world. Now we have just finished our first research project with Sir Run Run Shaw Hospital in Han Lo, China, that actually was supported by Ultradent."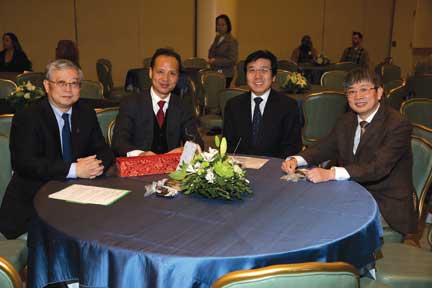 Dr. Li said he was "fortunate to have a capable and willing team at the Center who for all these years always make diligent efforts to ensure the highest quality and timely completion of projects," and asked them to stand and be recognized.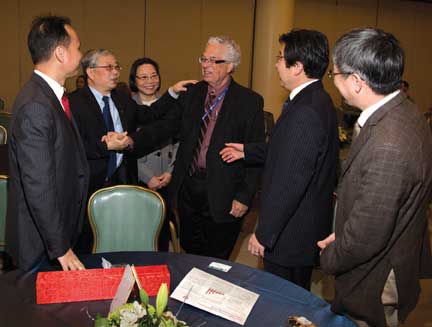 He also expressed "appreciation for the support we have received from University Research Affairs Offices, including the IRB for human study, IACUC for animal projects, Contracts and Agreements, Intellectual Properties, Grants Management, and Animal Facilies. Your assistance has been vital to our Center's success." And he acknowledged the "endurance and patience" of "Mr. Gyasi Haynes [project superintendent, Department of Construction and Architectural Services] who we would like to thank … for getting the work done so nicely."
Dr. Li closed with a promise to those who had any part in bringing about the Center's new facility: "We the faculty and staff who work in this Center will endeavor each day to honor the trust you have placed in our informed diligence and will continue to try our best to strive for excellence."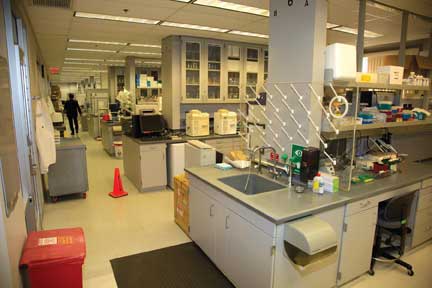 With the dining and speaking done, Dr. Li provided guests with a tour of the pristine new Center, with its ten fully equipped scientific lab benches, five latest iteration dental operatories, eight instrumentation rooms, one hi-tech conference room, and six offices—all of that and a 300-yard view north to the Centennial Complex and beyond to the impenetrable San Bernardino Mountains.