By School of Dentistry - April 16, 2015
The administrative duties of D. Graham Stacey, PhD, have been expanded to match his new title, associate dean, Office of Admissions and Student Affairs, LLU School of Dentistry.
Not long after the December 2014 retirement of Fred Kasischke, PhD, then associate dean for Admissions and Service Learning, Dean Ron Dailey, PhD, asked Dr. Stacey, PhD, associate dean for Student Affairs, to assume oversight for admissions and service learning as well.
After some weeks of settling in, Dr. Stacey outlined a modified structure for the combined position and reorganized the responsibilities of the personnel under his purview.
With his goal "to improve efficiencies and reduce budget impact," Dr. Stacey issued a January 28, 2015, memo to the School family that introduced his "integrated, collaborative, and cross-trained team" and their mandate "to facilitate our students' admissions into and journey through their dental school experience."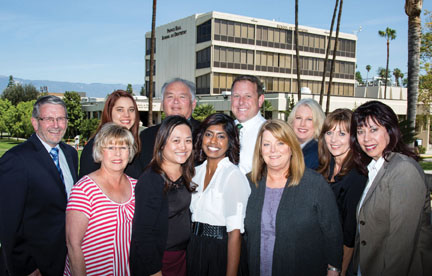 Administration
Tania Kurunathan, administrative assistant to Dr. Stacey, will assist with administration of the team in general and particularly the student professional standards process. Ms. Kurunathan will maintain Dr. Stacey's schedule and support him with his committee memberships, record keeping, teaching responsibilities, and database management.
Admissions and Recruitment
The Admissions and Recruitment team—comprised of Esther Valenzuela, director; Marlise Perry, assistant director; Cynthia Cassem, administrative assistant; and Roberta Lair, records analyst—will continue to handle all recruitment, admissions interviews, committees, consultations, feeder school visitation, and any other processes associated with the identification and matriculation of quality students.
Student Services
Irmgart Mitchell, formerly administrative assistant, office of Student Affairs, has been appointed director of Student Services. In that position she will facilitate all matters associated with student life—student finance, class leadership, registration, 'hold' clearance issues, housing, chapel attendance, student awards, student events, and liaison with LLU-ASDA student leaders.
Counseling & Support
Debbie Friesen, MS, assistant professor, Department of Dental Hygiene, has been appointed director of Student Support. Added to her faculty responsibilities, Ms. Friesen will 'triage' student assistance, counseling referrals, accommodation assessment, ARC follow-up, and continuing student support.
Service Learning
Gary Kerstetter, DDS'82, assistant professor, Dental Education Services, has been appointed director of Service Learning. Along with his faculty responsibilities, Dr. Kerstetter will be responsible for all Service Learning appointments, preparation, logistics, supervision, and operations, including staffing and Memoranda of Understanding. He will share with the director of Spiritual Life the administrative assistance of Anne Nicolas.
Spiritual Life
Dr. Scott Smith, DDS'09, assistant professor, Oral Diagnosis Radiology and Pathology, has been appointed director for Spiritual Life. As a part of his larger responsibilities as a clinical faculty member, Dr. Smith will oversee the spiritual life of the School in general and of the students in particular. He will share with Dr. Kerstetter the administrative assistance of Anne Nicolas.
"This is an exciting opportunity for our team to collaborate in the coordination of care for our students from their admission right through their journey at LLUSD," says Dr. Stacey. "Having the different sections of this team understanding each other's roles and duties as we work together will improve our standard of service. This adjustment will be good for the students and good for the School of Dentistry."