By School of Dentistry - February 8, 2011
Muller Pesson, DDS, recently arrived at the Loma Linda University School of Dentistry from the Cote D'lvoire (Ivory Coast) with an eight-month visiting scholar stipend awarded him by the Fulbright Foundation.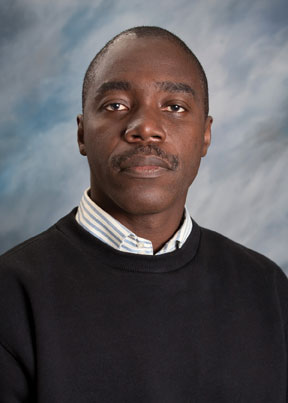 While at LLUSD, Dr. Pesson will be an observer in the Advanced Education Program in Prosthodontics (with a particular interest in fixed prosthodontics), and also will participate in ongoing research projects at the Center for Dental Research.
Dr. Pesson spent six years in dental education—three in Cote D'lvoire and three in France—including a year at each location earning certificates in dental materials and fixed prosthodontics, respectively. He then received the Doctor of Odontological Science from Abidjan, Cote d'lvoire University School of Dentistry in 1997.
Born December 13, 1967, at Daloa, Republic of Cote D'lvoire (RCI), Muller Delon Pesson was named after his engineer father's favorite soccer player, the great German "bomber," Gerhard Muller. Dr. Pesson graduated from Cote D'lvoire High School with an emphasis in mathematics and natural science before pursuing his dental education.
A native French speaker, Dr. Pesson is a self-described fan of the English language and a great admirer of the American way of life. He had to run quite a gauntlet to acquire the Fulbright Scholarship, beginning with an application that was vetted through the American embassy in Cote D'lvoire followed by assessments of his English proficiency, his professional interests, and the potential usefulness of his studies to his country of origin.
Established in 1946 by the U.S. Congress to "enable the government of the United States to increase mutual understanding between the people of the United States and the people of other countries," the Fulbright Program annually awards approximately 1,800 non-U.S. nationals grants to study in the United States.
Dr. Pesson and his wife have two sons, age nine and six. His avocations include a love of swimming, checkers, new information and communication technology, and novel reading such as those by Tom Clancy that he digests mostly in French.