By School of Dentistry - August 24, 2011
President Barack Obama signed a statement on August 9, 2011, that read in part,
Know ye that, reposing special trust and confidence in the patriotism, valor, fidelity and abilities of Monserrat Jorden, I do appoint her a Lieutenant Commander United States Navy to rank as such from the sixteenth day of June two thousand and eleven.
Ten days later, with her right hand raised before recruiting officer Lieutenant Jason M. Boyce, commissioning officer Lieutenant Fernando Patron Jr. (Medical Corps), and friends and School of Dentistry co-workers, Monserrat Jorden, DMD, MS'11, associate professor, Department of Pediatric Dentistry, swore to "support and defend the Constitution of the United States against all enemies, foreign and domestic," and that she would "well and faithfully discharge the duties of the office on which I am about to enter so help me God."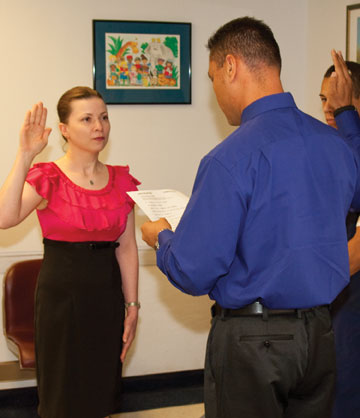 And so on August 19, 2011, Dr. Jorden was commissioned into the United States Navy as a Lieutenant Commander.
Dr. Jorden earned the doctor of dental surgery (CD) in 1994 as Monserrat Fernandez, graduating as class valedictorian from the Facultad de Odontologia at the Universidad Nacional Autonoma de Mexico, in Mexico City. (Monserrat had attended Catholic schools her entire life, and dreamed of becoming a physician. But her chest surgeon father and internal medicine mother steered her into dentistry rather than encourage her to follow them into medicine.)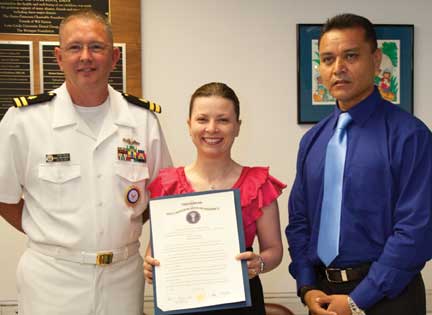 With dental school behind her, the next year Dr. Fernandez completed a prosthodontic preceptorship at the University of Texas Health Science Center at San Antonio where she met her then dental student husband-to-be, Navy Ensign Jeff Jorden.
After the preceptorship Dr. Fernandez associated in private practice with a Mexico City prosthodontist. The long-distance romance and Jeff Jorden's dental school culminated (spring of 1998) in three, consecutive hectic days: regional boards, graduation, wedding.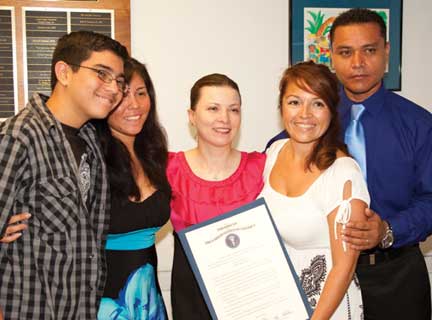 For the first couple of years of their married life, the doctors Jorden lived in Virginia and New Jersey, where Dr. Monserrat Jorden, lacking an American license to practice, worked as an expanded function dental assistant, earning the tuition to enter the Advanced Standing Program at Tufts University School of Dental Medicine in Boston from which she graduated with honors in 2002.
Dr. Jorden then worked as a general dentist for seven years wherever her husband was stationed—in Groton, Connecticut, San Antonio Texas, and the US Naval Hospital in Sigonella, Italy, before entering the Advanced Specialty Education Program in Pediatric Dentistry at Loma Linda University in 2009.
It was Dr. Jorden's professionalism in Sigonella that was instrumental in acquiring her Navy commission, because she was recommended by a Navy officer who had appreciated her work as a civilian dentist to Navy personnel in Italy.
For the past two years, Commander Jeff Jorden has been a dentist to the crew of the aircraft carrier USS Nimitz, initially stationed out of San Diego and later from Seattle, Washington. Monserrat Jorden's Navy commission will enable her to join Jeff in Japan where both will be doing dentistry for Navy personnel and their dependents.
The United States Navy's gain is the School of Dentistry's loss.
Also recently commissioned as Navy lieutenants were three School of Dentistry graduates from the dentistry class of 2011, Donavon Yapshing, David Green and Yamel Ramirez, sworn in at Randall Visitor Center by retired Brigadier General Michael Walter, MD, associate professor, LLU School of Medicine, on the morning of their May 28 graduation.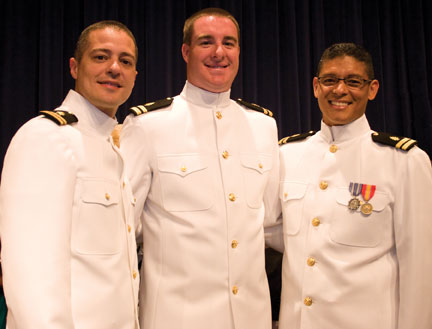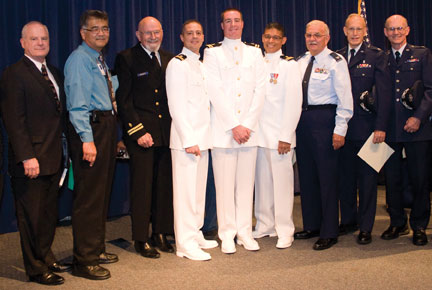 The high moment was witnessed by family, friends, classmates, as well as Navy and Air Force veterans on the School of Dentistry faculty who welcomed the trio to the fraternity of their service.