By School of Dentistry - May 22, 2014
Loma Linda University School of Dentistry's Eric Chen, D4, was one of four students chosen from among American dental schools in 2013 to receive a $5,000 scholarship toward tuition and fees from the Dental Trade Alliance Foundation. The student recipients were honored at an April 9, 2014, dinner in Arlington, Virginia, for the scholarships that recognize and provide financial support for third- and fourth-year dental students who have demonstrated academic excellence in dentistry, financial need, and a commitment to community service.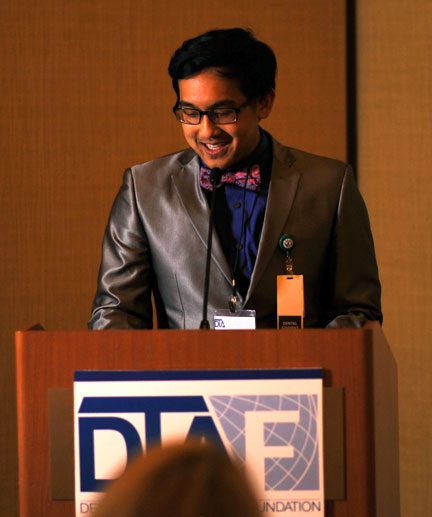 During his four years of dental training, Eric Chen has participated in every service learning opportunity that he could force into his schedule and has found the experiences invaluable to his development as a competent and compassionate dentist.
New Hope Free Clinic
As a D3, Eric participated in the midwifing of New Hope Free Clinic (NHFC), including the drafting of a mission statement and a memorandum of understanding that linked LLUSD to the project. A year and a half later (October 2012), the Clinic opened with four, functioning dental operatories. Eric and his D4 co-leader, Matt Enns, met with representatives from quite a number of dental companies to solicit in-kind contributions that included anesthetic, dental materials, instruments, and even Dentrix software and virtual patient databases (MedKind and Practice Fusion) to stock and facilitate the new clinic.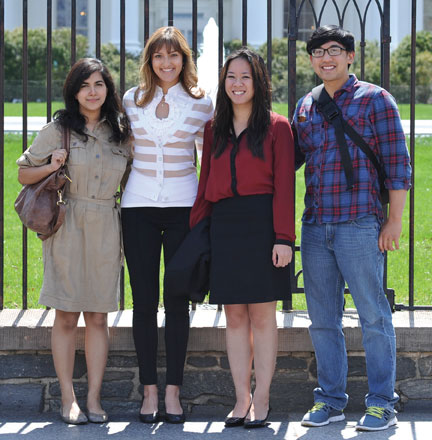 Services provided at New Hope include most direct restorations (amalgam, composite, glass ionomer, stainless steal crowns, as well as temporary filling materials), extractions, selected cases of removal prosthdontics, and selected cases of endodontic treatment.
Eric helped acquire and organize student and faculty participation to make this clinic an LLUSD supervised student learning experience that demonstrated to him the immense reward of serving the underserved. Eric typically recruited D1s for assisting and observation; D2s for radiograph, sterilization, and assisting; and D3s and D4s for operating and triaging. Students from the School's Department of Dental Hygiene were also recruited to provide SRPs and prophylaxis. For more involved surgery or endodontic cases, he recruited faculty specialists for procedure oversight and mentoring. Eric says, "The student and faculty participation has been amazing."
Having helped to organize and manage eight running chairs, 24 students, and an average of 20 patients twice a week, Eric appreciates the importance of coordination, teamwork, and communication. He says, "There is no free or for-profit clinic that operates on 'I'" The measure and intensity of effort required of everyone is what he calls "the miracle that is the New Hope Free Clinic."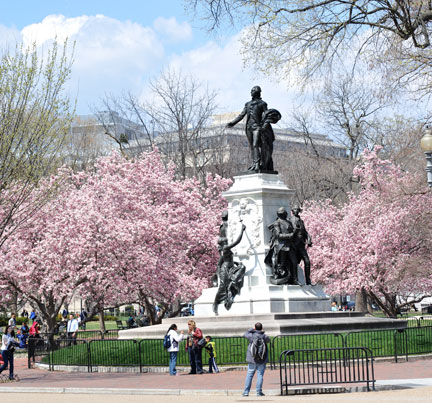 The Homeless Mobile Clinic
"The Homeless Mobile Clinic really tugs at my heart," says Eric, "because it draws a population that is the most needy: chronically homeless, mentally compromised, and often alcoholics and addicts (both current users as well as those who are recovering)."
Initiated by Brian Novy, DDS'06, alumnus and former LLUSD faculty member, the monthly Homeless Mobile Clinic brings dental services to Riverside County's homeless population at Riverside Calvary Presbyterian Church during its Sunday homeless feeding.
Before each clinic, Eric and a handful of student colleagues head to the School of Dentistry warehouse where all the community service and mission trip materials are held. The students load the LLUSD Crest Mobile Clinic and a van filled with dental materials and instruments—2x500 psi capacity compressors, Nomad portable x-ray units, hoses, lines, extra attachments (female-end attachments are notorious for busting off), 2 ADEC and 2 ASEPTICO portable units, zero-gravity lounging chairs, microphone stands (we use these to hold flashlights), blood pressure cuffs, and raffle tickets. Most of the materials come from LLUSD and Foundation for World Health through Mark Carpenter, DDS'80.
Eric's responsibilities include oversight of set-up and tear-down, patient triage, radiology, and patient flow. After the 15 to 20 patients that typically are seen for the day have been triaged, he supervises and assists students with unfamiliar procedures.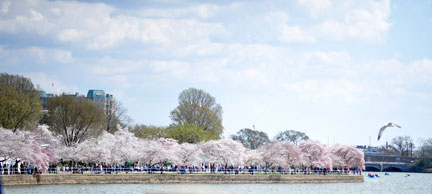 Nicaragua service learning Trip
Eric has participated in three service learning trips to Nicaragua led for many years by Dr. Carpenter, Tom Rogers, DDS'83, and Hank Mercado, DDS'77. He has been pleased that others were in charge of those trips, leaving 40 to 50 students in the capacity of what Dr. Carpenter calls, "young blood labor." Eric's responsibility on those trips has been to monitor inventory and to think of ways to make each successive year more streamlined. When he first arrived in Nicaragua he was part of a pilot team that explored potential populations for treatment.
In 2013 he went to five locations, four of which were close to the capitol city of Managua and one additional venue in the outskirts of the country: 1) UNICA (University of Nicaragua in Managua), 2) AMOS (A Ministry Of Sharing), 3) METRO Hospital in Managua, 4) Callejo Bautista, 5) Acahualinca. Six locations required as many sets of dental equipment, which translated into packing approximately 30 large black storage containers with dental equipment that had to magically weigh in at about 47 pounds to safely and quickly pass through customs. A number of volunteers formed what Eric called "a formidable human assembly line that would make Ford Motors blush," efficiently packing oral surgery, restorative, and miscellaneous items in a matter of days. For him the more enjoyable part of the preparation process was testing out the Kindle Fire for electronic tracking of patients and procedures performed, designing an adequate protocol for Fuji II, IX, Triage glass ionomer usage and storage, making a step-by-step video of how to use the Nomad portable x-ray unit and pair it up to the digital sensor using Dentrix G4, and purchasing a large bag of tea strainers to cold sterilize burs and other small items. The World Market cashier was convinced that Eric was a tea afficionado, which is purely a coincidence.
YouthHope
As the vice president of his class, Eric was responsible for creating a "dental class project" that was service oriented and exclusive to the LLUSD class of 2014. During the grand opening of the New Hope Free Clinic (NHFC), Eric met Heidi Mayer, the clinic's founder and executive director, who was seeking dental treatment for disenfranchised teens. Seeing that the opportunity presented itself, he immediately cooperated with Ms. Mayer to get his classmates "dentally-sponsoring" these teens. She has organized weekly food drives from a church facility to feed as many as 70 displaced teens each week, and to purchase local bus passes for each of the young people.
To assess the needs of this specific population, Eric was able to recruit 24 volunteers from his class to do dental screenings for what became YouthHope. It was apparent to him that the special dental needs of the teen population are primarily anterior restorations and third molar extractions. Marcella Peterson, NHFC administrator, embraced Eric's request for a separate day to schedule only teenage patients from YouthHope to have their dental treatment completed by his classmates. He recruited 14 classmates to run seven chairs (3 operatories and 4 portable units) and was able to treat nine teens from YouthHope in November of 2012.
After two more YouthHope clinics, Eric proposed to the NHFC administration that his team of volunteers would treat two teens from YouthHope every Tuesday and requested that the needy teens be separated from the general waitlist of 800 people. The NHFC administration agreed, YouthHope was incorporated into NHFC, and the YouthHope project has been a great success. Letters of appreciation from grateful youth have reinforced Eric's efforts.
RAM—CAL and CALAOMS
Twice a year, typically, Remote Access Medical—California (RAM-CAL) and the California Association of Oral & Maxillofacial Surgeons (CALAOMS) sponsors a large-scale free dental clinic comprised of dental students, local dentists, hygiene students, and local hygienists treating various regions of the Inland Empire. The last two clinics to which Eric contributed his advancing dental skills were at the Riverside County Fairgrounds in Indio, California in April 2013, where over 1,000 patients were seen for various dental procedures.
Eric rendered services for direct restorations and extractions and mentored underclassmen in unfamiliar procedures. "It was one of the most efficiently run clinics that I have seen," he says, "with volunteers ready to give you new patients or direct patients that have completed their treatment." Unusually well staffed and regimented, the RAM—CAL/CALAOMS collaboration impressed Eric with its many rows of queued patients; but he also was sobered by the rows and rows of patients turned away due to time limitations.
Mary's Mercy Center
Mary's Mercy Center is special because it is located in the heart of one of the largest low-income populations in Southern California and addresses both child and adult dental problems.
About once every quarter, Dr. Carpenter and Dr. Rogers bring dental equipment from the Foundation of World Health to Mary's Mercy Center in San Bernardino, California, to serve the homeless and low-income population in San Bernardino County. Mary's Mercy Center is a homeless feeding facility that permits them to use its grounds to set up 16 chairs and portable units.
If there is enough faculty coverage for clinical supervision, Eric's job has been to help Claude (the clinic handyman) run two main hoses from the compressors powering dental materials and equipment, to perform radiology, and to maintain patient flow. The beauty of this clinic is how it treats families—a number of pediatric dentists and general dentists treat children in the morning and see their parents in the afternoon, a logistics advantage to disadvantaged families.
After confronting the bottlenecking effect of patients going through radiology using analog film, students proposed the use of digital sensors and a small photograph printer to generate radiographs so that patient radiographs could be kept on record. This clinic approach was adopted for our international trips because the setup design, patient population, set-up, and tear down are near identical. An average of about 20 patients are seen each session.
Their motto might be, "We go where the homeless are being fed."
Flying Doctors
A favorite clinic experience for Eric has been the Flying Doctors Clinic headed by Larry Taber, DDS. The last clinic was held for the underserved denizens of Riverside County on February 23, 2013. The patient demographic that sought care at this particular clinic were low-income Hispanic families. The services that the Flying Doctors clinics provide include direct restorations and extractions.
Eric found particularly meaningful his participation in the last clinic in the Cesar Chavez Center in Riverside because he learned that Flying Doctors had partnered with the Tzu Chi Buddhist foundation. The Tzu Chi foundation provided dental, optometry, and acupunctural services. It was amazing to see two disparate religious traditions join hands to heal the sick and needy. Due to rapid patient screening and efficient radiography, this was by far the most organized clinic in which he participated. Materials were prepared on trays in advance, and there was an abundance of assistants.
As a dental student participant, Eric rendered services including direct restorations and extractions. An online videos showcases the Riverside County event and makes clear the community's interest in these service clinics and that the efforts of Eric and his colleagues make a real difference.
"I am grateful that I have worked with truly wonderful people that are equally committed to community service as I am," says Eric. "Amazing mentors have shown me that it is possible to do excellent work both in private practice as well as be committed to quality community service. Inspiration comes naturally with the team of volunteers that I work with and I am humbled by their acts of kindness and dedication to the various projects I am also part of. They continue to be a great source of motivation to keep moving forward."