By School of Dentistry - September 21, 2010
          Edna Maye Loveless, PhD
Tucked in offices throughout Prince Hall and its auxiliary facilities are twelve LLUSD staff members whose combined service record totals 357 years. Asking them why they're still here evokes enthusiastic responses, suggesting that the right people are in the right places.
In recent interviews, these twelve veteran staff members with 25 or more years of LLUSD employment expressed loyal commitment to their tasks and the people they serve.
Carl Imthurn—Programer Analyst, Dental Computer Services
No, Carl Imthurn didn't anticipate spending 25 years (so far) of his life at Loma Linda University School of Dentistry as a computer programmer and analyst. A German major in college, his question upon graduation was, "What am I going to do with this degree?"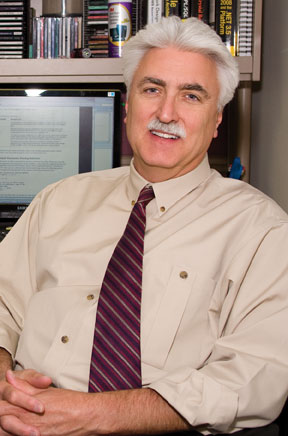 Fortunately, his practical mother had exposed him to data processing, often taking her four children with her to work (evenings) at a San Diego hospital. "We knew enough to keep our hands out of anything," he recalls. Beginning with his first post-college job doing data entry for patient admissions and charges at a hospital, Carl has been "self taught." His bookcase contains books on Oracle PL/SQL, Crystal Reports and Microsoft C#.NET, among others. "You buy a book," he says, "and learn what you have to learn. There are also a lot of online resources—newsgroups. Within hours I'll get an answer to a question I've posted."
After a stint working in Loma Linda University computing, Carl joined the School of Dentistry staff. "I've stayed here [for 25 years]," he says, "because it's an interesting field. There's enough going on in computing so that my job duties never get boring. There's a lot to learn; the field is growing so exponentially that you have to pick something and learn it well."
A researcher will ask him to retrieve information to pursue a study. Carl knows that the information hasn't been stored in a manner to permit retrieval. "We are not capturing those data," he'll explain. Then, ever helpful, he will ask, "What's Plan B?" En route to his mountain home, he'll ponder the request. With his expanding expertise, he is about to enter a cooperative endeavor to retrieve the unretrievable. The people in research are depending on him.
Nellie Greene—Financial Assistant, Patient Business Office
She's modest, does most of her work by phone (she's a "collections agent"), yet appears every day in a subdued groomed manner. The grooming, Nellie Greene recalls, goes along with a strict dress code her employers introduced to her when she came to LLUSD in 1979. "I didn't know much about Loma Linda," says the San Bernardino native, "but what they said was all right with me."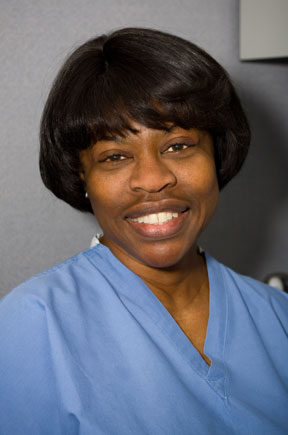 A dental assistant, she didn't know the School would hire outside dental assistants until a recent dental graduate in her office said flatly, "You are working too hard! You should go to Loma Linda." Following an interview (well, three interviews to be exact), Drs. Daniel Tan, SD'75A, and Gil Dupper, SD'67, placed her on the dental assisting team in the main clinic.
She learned that she and her staff associates' schedule included chapel. "I enjoyed that," she says. Imagine getting to go to chapel. "And we had group prayer before we started in the morning. We would pray before we saw our patients." She adds, "Of course I would pray on my own as well. When you start the day off, you need to talk to the Man and get a few things straight."
Transferring to the orthodontic clinic, Nellie was there for several years. Later, in the patient business office doing insurance billing, she was tapped for collections. Now in her eleventh year of collections, Nellie is phoning all day (and notably successful), dealing with people "and everything that goes along with it," she adds. And she smiles confidently when she says, "You learn how to deal with disgruntled people. I love Loma Linda. I wouldn't want to work any place else. I love this place."
Nellie is similarly enthusiastic about another accomplishment in her life. With four boys semi-adopted and living in her home, she became a coach in the Fontana basketball league as each boy achieved a spot on the team. "I had a blast," she says of her coaching experience. "The boys filled my life."
George Dobrota—Dental technologist, Dental Laboratory
In the dental lab, George Dobrota speaks with enthusiasm of his job that demands technical precision: "It's easy for me to do this job. Most of the time it's very enjoyable." Colleagues note that his precision reflects a 34-year casting career at Loma Linda University School of Dentistry.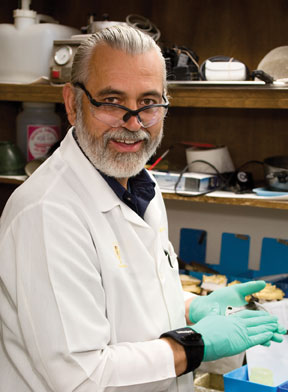 George readily demonstrates his craft, narrating the birth of a casting: "A student has a patient who needs a crown. The student gets an impression, pours the model, then uses wax to model the crown. Next he inverts the crown by placing it inside a metal ring and placing refractory material around it, which allows the wax to melt. When it melts," he says, "we melt some gold. This is called Lost Wax Technique. We lose the wax and replace it with something else. In dentures, the wax is replaced with acrylic."
By this time, George is polishing the crown in a noisy sand blaster. "I was here before we had a sand blaster," he comments, describing the more tedious task of polishing the tooth manually. "I also process dentures. I replace whatever is missing so that the denture fits closely again."
 What are his challenges? "Some days we get requests that can't be fulfilled—If-I-bring-it-tomorrow-can-I-have-it-yesterday requests," says George. "So many people come in with job requests," he comments. What is his response? "You listen," he says. "It has to work. I go through in my mind how the task is to be done. Sometimes I just have to say, 'It can't be done this way; maybe we could do it another way."
He's aware that he's called on another set of skills when he sums it up: "It's almost like a negotiation."
Max Hernandez—Dental technologist, Dental Laboratory
Another laboratory technician, Max Hernandez works in the color-corrected light specially provided for the 12 dental lab technicians. The light duplicates the light in the main clinic upstairs; both create an outdoor illumination, important in a precision-dominant business, where the technician needs to re-create the shades and colors identified by the students and dentists in the clinic. Max explains that each tooth has three shades—gingival, middle, and incisal.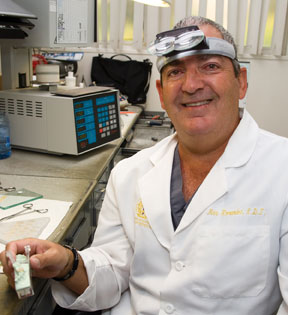 A dental ceramist, this 30-year veteran of the lab offers a metaphor for a novice inquirer:
 "I make sand castles," says the lab's ceramist, describing the very fine sand he places on a coping (thimble-like form). Applying porcelain atop the sand on the thimble, he puts it in an oven (specifying its temperature—1,760 degrees Fahrenheit) where the porcelain turns into glass and emerges in different colors. Using stones and diamond burrs, he shapes it, then fires it in a glaze cycle for final shine. From here it goes to quality-control supervised by dental faculty. Ultimately it is ready for the student's patient.
Max is enthusiastic about his job. "Here we see all the new technologies that come through the industry." A certified technician, he pursues annual continuing education to remain current. "This keeps me going—learning new things," he says. "Every year it's new blood, new interests, new personalities.
"Additionally, the students are always learning. I can give them confidence—hints and explanation about procedures they may have missed in class. I help them avoid pitfalls that would require re-doing things.
"One of the reasons I enjoy working here is that Loma Linda stresses quality over quantity. Commercial labs survive on quantity. We strive for the highest quality. All of the faculty are on board with that. They want to provide the patient with the best product we can. One of the things I enjoy the most is working with our doctors. It seems we have respect for each others' talents. You don't always have that mutual respect at other places. They are very much a part of why I work here."
Amalia Hernandez—Supervisor, Dental Records
Patient records department is in a state of flux. As a matter of fact, it almost always has been since Amalia Henandez arrived 29 years ago. Initially, a student could retrieve a patient's records by signing a slip of paper that indicated the location of the patient's records. Considerable legwork and handwritten jottings kept the records circulating from a Grand-Central-Station location at the entrance to the main clinic.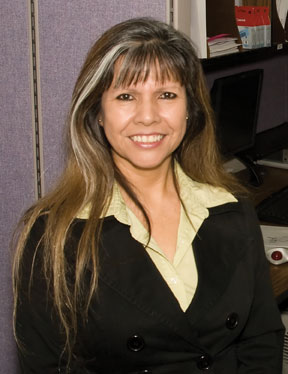 Amalia's tenure in the department has included three subsequent upgrades in records. Initially, response to electronically filed record requests resulted in the production of "pages and pages" of records for a student. Today, axiUm (the third software program Amalia has "mastered") is rendering the records office paperless. Well, not yet, of course. First Amalia must oversee the removal of 50,000 patient records to a storage area. And she is monitoring the purging of totally inactive records. 
So is the record office becoming totally automated? Hardly. Entering Amalia's office, now in a remote area of Prince Hall, you're likely to be greeted by an assistant who asks, "Did you come for a subpoened record?" The records office serves the court, lawyers, and patients' families seeking evidence to identify missing persons. Additionally, dental faculty pursuing research often request a set of charts to collect pertinent data, and patients who are moving can be expected to request x-rays and notes.
Amalia's long-term service is a distinct asset. Finding two records with similar entries (names spelled almost the same way, or one number different in date of birth or social security number), she suspects a possible record duplication, perhaps the result of a typo; she institutes her own detective work—all executed to achieve accuracy and efficiency in her department. With one son, Ruben Jr., now working in LLUSD's computer service department and another son, still in school, serving part-time in records, Amalia can point proudly to a three-generation involvement at LLUSD.
Linda Carlisle—Administrative Secretary, Dental Supply
Linda Carlisle's mother would be retiring soon from a position in LLUSD's dental supply department when Linda applied for the position. The department's administrative secretary, Linda has now worked in dental supply for 30 years. Each quarter she oversees ordering and preparing supplies (issues) for the dental students to pick up on Day One of the quarter. She remains the go-to person when students run out of a needed material.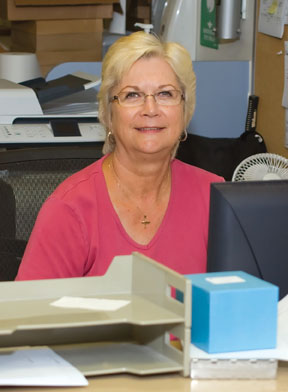 Having used up a tooth, a student announces breathlessly, "I need a tooth for tomorrow's class." The students are always in a hurry," Linda notes. Long ago she came to expect their urgency.
"I love working with the students," Linda says. "I love my job. That's why I have been here so long. I get to meet all the people and interact with them. They are family."
 The students' little dramas keep her going. "The doctor I'm working with is a hard one!" a student complains.
"Well," says Linda, "you just have to deal with it."
Quick to identify shy students, she is committed to "bringing them out." She'll engage one with her cheery, "How was your weekend?" Later she turns to her staff, "We'll need to work on that one."
"It's a fun challenge to cheer them up," Linda notes. That's why she's here—and that's why the students come for more than supplies at the dental supply office.
Debbie Catino—Manager, Endodontic Dental Office
After 32 years in the endodontics clinic, Debbie Catino says, "I manage most everything that happens in the endodontic clinic." She calls herself a "working manager," because she has served in all the staff positions. Although her position emphasizes the business side, she also had "on the job" training in dental assisting. Thus she can work on the floor, and she can run the back office. "A good manager has to know all the jobs," she says.
 
Debbie oversees scheduling for predoctoral students, dental assistants, and graduate students rotating through the clinic. Unlike a non-school clinic, she is assimilating new practitioners every July. "I have to get to know each one of them as if he or she is the only dentist I'm working for," she says. "I work with this group for 27 months—and then they are gone."
 Debbie faces the daily challenge of making sure the clinic has a good patient flow, working closely with urgent care to funnel patients into the clinic. Debbie describes the two-edged sword she wields in management: "We want efficiency," she says; "in addition, we want the students to learn everything they can—and when they're learning, they must be given the necessary time to master the task."
Crediting Dr. Leif Bakland, who hired her, with teaching her a great deal about management, diplomacy, and professionalism, Debbie seeks to pass these lessons on to students in the clinic. She is alert to their diversity and needs. "Take the millennials," for example, she says. "They have changed the way we teach and manage." The millennials can expect to find a safe place with Debbie in endo.
Evie Roach—Record Analyst, Clinic Administration
For Evie Roach, a coordinator and auditor of Urgent Care, it seems as if the phone never stops ringing. "Usually there are three or four patients on hold," she says with a calm that belies the anxiety patients typically unload on her.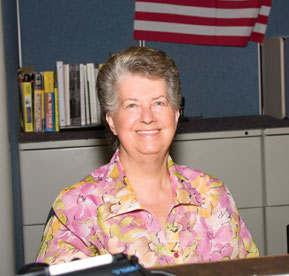 A valuable staff member at LLUSD since 1980, her career path has taken sharp turns. A native of Buffalo, New York, Evie arrived in Southern California curious to see Loma Linda University that she had heard about throughout her youth. As a food service manager, she had been hired to manage massive food production at La Sierra University.
After 13 years at La Sierra, in an ambitious moment, Evie responded to a friend's query, "If you know of anyone interested in becoming a dental assistant…" and exchanged the gallon measurements of food service for the millimeter measurements of dental care.
Ready for a new challenge, she was hired into DAU/TEAM at LLUSD and soon after became an RDA and CDA. Moving to the dental records department, Evie became a chart auditor, advising students on the particulars of documentation so that their entries would be legally qualified.
LLUSD's labyrinth of departments beckoned again and Evie moved to urgent care. "It's unique here," she says. "We are serving patients in great discomfort, many of them scared because of past dental care in other facilities." Evie sees her job a matter of calming fearful patients. In a calm voice she suggests that they try to calm themselves by relaxing and thinking of the best vacation they have experienced. Grateful patients emerge from treatment with words of appreciation: "You really helped me." "The dental treatment was much easier and more pleasant." And Evie turns to provide a less harried existence to another person on the other side of the window.
Off-site from the busy LLUSD reception area, Evie adds her calm demeanor as a volunteer videographer at Loma Linda University chapel service, Loma Linda University Church services, and Loma Linda Broadcasting Network, where she also serves as the trafficking manager. She is a member and the recording secretary for the University Church media board and Loma Linda City CERT (Community Emergency Response Team) Board.
Gloria Ramirez—Manager, Patient Care Coordinators, Clinic Administration
Gloria Ramirez arrived at LLLUSD in 1972 to work in the dental assisting program. Moving up the career ladder, she first mastered the tasks of checking patients in at the front desk, then switched to radiology, and thence to the surgery center. In 2000 Gloria arrived at the main clinic as manager of patient care coordinators.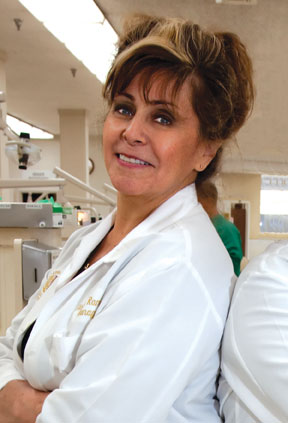 "The people I worked with had more faith in me than I had," she comments. Marking the tenth year of her current position, she sees her task as keeping everybody happy—faculty, students, and coordinators. "I love the people I work with," she says. "We are like a little family here."
She calls her coordinators "a great group of people." A good coordinator, according to Gloria, has to be fairly able to multitask, be professional, and communicate well.
During her 36 years at LLUSD, Gloria has seen a lot of changes. "Change can be difficult," she observes. "You either flow or fight it. It's easier to flow with it."
If anyone should complain about a coordinator, she's sure to say, "I believe there's always two sides to a story." Confident that it isn't good to try to change a person, she says. "I'll examine their performance. If it's good, we can live with it." And she enthusiastically supports her team:   "They are a terrific group to work with. They strive hard and want to do the best possible."
Her coordinators, each in charge of approximately 30 students, are like front office personnel in a private practice. Gloria notes that many of them are recipients of cards, gifts, and words of appreciation from the students. This isn't expected, she says; it comes spontaneously.
Gloria interacts, too, with the predoctoral students. "They are at a learning stage—a receptive stage. We can influence them here."    
 Declaring LLUSD "a good place to work," Gloria says, "The people are pleasant and service oriented." She looks forward to possibly five more years at LLUSD. She notes that her son Gabriel has joined her as a LLUSD employee in the patient business department. And then with a broad smile she mentions the post-retirement traveling conversations she's been having with "the love of her life," a detective in the San Bernardino's sheriff's department.
Marianne Bossert—Dental Assistant, Graduate Orthodontics
Marianne Bossert is a LLUSD employee who demurs when asked for her job title. "I do a little bit of everything," she says during a break in the orthodontics clinic. Wearing many hats, she has been assisting a resident the past hour. She is adept at records and sterilization. She does all the ordering and purchasing for the department. And she undertook considerable unpacking and sorting of the hundreds of boxes that facilitated the department's recent relocation to Hospitality Lane.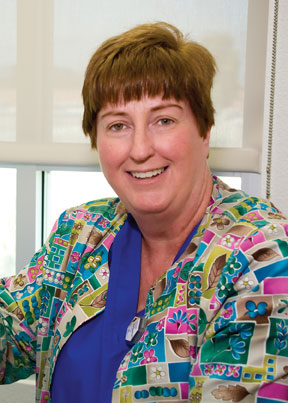 Marianne came to LLUSD as a dental assisting student; after her 1979 graduation, she "stayed on." She worked first in DAU and the radiology department, then became a coordinator in charge of the supplies in the orthodontic clinic. She is enthusiastic about the variety her job offers. "I want to interact with the students and give them a positive view of the field of dentistry," she says. "I make their life easier while they are in the program." In an academic mode, she teaches an orientation class for residents, sharing, for example, her expertise in positioning x-rays for desired results, and even her recommendations about suppliers whom she recommends as dependable—valuable information for when residents open their practice.
She is quick to respond when patients ask, "Do you like your job?" Marianne will encourage them to explore a dental assisting career. "You get to meet a lot of people," she'll say. Those people often have words of appreciation for Marianne: "You don't poke and hurt me."
One of her more adventuresome jobs came when Toufic Jeiroudi, SD'82, invited Marianne to help train the staff in his new practice in Abu Dhabi, United Arab Emirates. Using both dental and people skills, Marianne responded positively to the staff (coming from many different countries) and to the Middle East culture. Shrugging as she recalls the challenge of using equipment unlike that available back home, she cherishes the memory of helping plant another LLUSD alumnus overseas at a site more than 8,000 miles from her home turf.
Mary Hartwell—Manager, Dental Clinics, Clinic Administration
Mary Hartwell easily identifies the time she began working at LLUSD: November 1979. She became an administrative secretary for Dr. Kenneth Wical. Five years later, she answered a call from then Dean Judson Klooster and Dr. Kenneth Wical who were asking, "Why haven't you applied for the personnel management position in the clinic?"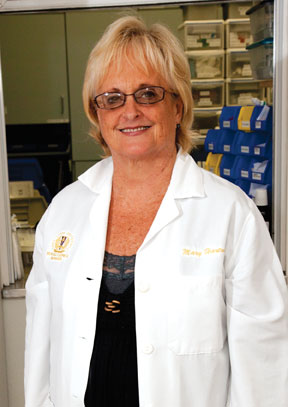 "I never thought of it," she replied. She explains that she had no training in personnel management.
"We'll send you to classes in personnel management," Dr. Klooster promised. Mary's adept on-the-job learning at overseeing clinic supply, PBX, and helping out in sterilization assured her colleagues that she'd be right for the position—or positions. She began by establishing job descriptions for staff personnel. Her job expanded to overseeing staff personnel assigned to the clinics, clinic supplies, and sterilization; and she was keeping managers current on regulations, and monitoring budget compliance.
Sitting comfortably in her office adjacent to the busy predoctoral clinic, Mary seems at home in a predominantly male context. "You have to learn how to work in this environment," she says. She credits Associate Dean of Clinic Administration, Paul Richardson, SD'72, with giving her sound advice as she matured into the job: "Don't spend time here getting your feelings hurt."
Today, Mary admits, "I have a passion for this School. It has been my mission. Even on my worst days I love coming through the doors of the School."
She likes having both academic and clinical concerns in her position. "In academia," Mary says, "it's quiet. Then I go into the clinic. There a line of 37 students is waiting for supplies—or a breakdown in the suction mechanism challenges us." She smiles and adds: "We are a family at the School. We are known throughout the campus for this. We protect our own." Mary names her many friends—colleagues at the School.
It's obvious that they are included when she says, "I believe in the School. I also believe in what we do."
Floyd Ferguson—Manager, Dental Supply
Of his 30-year service record in LLUSD's dental supply department, Floyd Ferguson says, I've seen it change." He describes the dental supply operation before gloves, masks, and gowns became de rigueur in the clinic. When male students wore shirts and ties, he recalls, "we kept four or five loaner ties for guys who showed up without them because, unlike the current personal protective equipment, ties aren't disposable."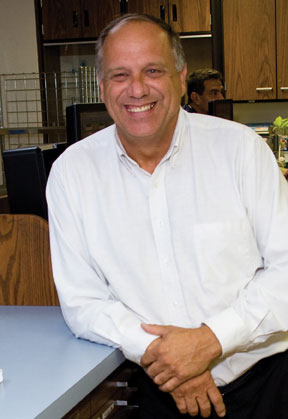 His computer skills recommended Floyd to the job. Learning dentistry connections on site, he created computer-driven purchasing and billing, becoming liaison with dental representatives from various companies. Today he processes computer ordering for over 65 faculty and staff in labs, clinic, and classrooms. Additionally, all mail deliveries come through his office, and he manages "the store" where students get their supplies.
"This is the only dental school that issues supplies to students quarterly," Floyd says with satisfaction. Ordering, packaging, billing, and delivering these quarterly "issues" to students is a significant convenience for the students, says Floyd, noting that in some dental schools the students must order and pick up their own supplies—even teeth for typodonts—from various sources. Supplying the materials committee with information regarding pricings and backgrounds of the suppliers, Floyd is valued by his colleagues, who say, "We know Floyd will bring many of the issue and materials agenda items to our meeting."
Wearing another "hat," Floyd serves on the disaster preparedness committees for both the School of Dentistry and the University. His interest in disaster preparedness came during his involvement at Big Bear's 1992 Scottish games. He watched the ski slopes crumble in a 6.5 earthquake. His typical fondness for researching led Floyd to seek expertise in meeting disasters competently.
Even what he pursues "for fun" aligns with Floyd's propensity for gathering information. The president of Yucaipa Geneology Society, he has visited England, Normandy, and Scotland for historical and genealogical information and artifacts. More recently Floyd and his 15-year-old son explored Civil War sites. "Right now," Floyd says proudly, "my son says he wants to be an archeologist." Using information-gathering, a well-developed family trait, Floyd says, "I feel there's a specialty that I can bring to the operation of the University." That specialty serves the School of Dentistry well.