By School of Dentistry - January 6, 2012
      Clyde Roggenkamp, DDS, MS
Heisler, SD '59, professor, Department of Restorative Dentistry, was inducted into the fellowship of the American College of Dentists at its October 11 meeting in Las Vegas. He graduated with the third class at Loma Linda University School of Dentistry where he was awarded membership in Omicron Kappa Upsilon, the national dental honor fraternity. He first practiced in Forest Grove, and later in Springfield, Oregon. In 1962, at the time of the Cuban Missile crisis, he was drafted and served in Mainz, Germany, until July 1966, as a captain in the U.S. Army Dental Corps.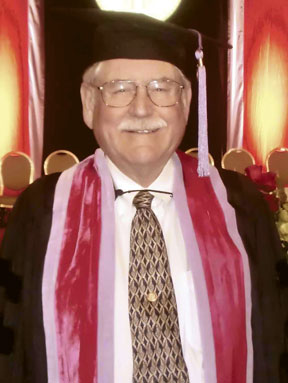 In 1967 he opened a private dental practice in Novato, California, where he continued until 1980. While in Novato, Dr. Heisler served as an elder in the Novato SDA church and chaired the church building committee during the construction of its sanctuary that opened in 1978. It was during his practice in Novato that he became active in organized dentistry, serving as president of the Marin County Dental Society in 1978 and 1979. He briefly returned to Loma Linda in 1979 to serve as a judge of student table clinics.
Following officership in the Marin County Dental Society, Dr. Heisler was selected to serve on several California Dental Association Councils, spanning a total of 11 years, on their councils on insurance and education. He served two terms on the California State Dental Board's ad hoc committee responsible for laying the groundwork for Licensure by Credential in the state.
Joining the LLUSD Department of Restorative Dentistry as an Assistant Professor in September 1980, Dr. Heisler taught pre-clinical and clinical dentistry until July 1991 when he became LLUSD associate dean for Clinic Administration, a post he maintained until December 1998. From 1999 to 2007 he taught pre-clinical and clinical dentistry in the International Dentist Program, and he has continued teaching clinical dentistry to pre-doctoral students since that time. In 1984, he received the School of Dentistry Alumni Association's Alumnus of the Year award.
In 1991 Dr. Heisler was elected president of the Tri-County Dental Society. In 1999 he further served as president of the National Association of  Seventh-day Adventist Dentists (NASDAD), where he contributed significantly to the Service Learning Program for LLUSD students who provide free, basic dental care for patients in many other countries. He was presented with the prestigious LLUSD Distinguished Service Award in 2000.
During his LLUSD teaching career, Dr. Heisler has served as president of the southern California chapter of NASDAD, president of the Chi Chi (LLUSD) chapter of Omicron Kappa Upsilon, and two terms as chair of the LLUSD Faculty Council.
Dr. Heisler served as chair of the Annual Fund of the LLUSD Alumni Association for eight years, providing, in cooperation with the Loma Linda University Councilors, a $1.4 million challenge grant for student scholarships. He is a charter member of the Dean's Circle, inaugurated in 1990. His teaching ability as associate professor at LLUSD has been appreciated since 1993, and he was elevated to full professor in 2006. He continues to contribute time and valuable expertise at his alma mater, instructing students in clinical prosthodontics.
Dr. Heisler is a past president of the San Bernardino Crossroads Rotary Club. He is recognized as a champion of community and overseas outreach involvement, and it is significant that the Rotary International Foundation funded his 1998 visit to Magadan, Russia, in that country's easternmost region, to assess the need for its children's dental care. Later, in 1999, he received funding from Rotary International to lead a team of five dentists and a health educator back to that former slave labor area to provide dental care and health education to the children of the region. He made two more trips there (2001 and 2003) to install much-needed dental operating units and dental x-ray equipment—all funded by Rotary International humanitarian grants authored by Dr. Heisler.
In connection with these highly successful efforts, he was recognized by his Rotary club as Rotarian of the Year, no small honor since that award had not been bestowed on any club member for several years. In 2001 he received the Citizen of the Year award from the Loma Linda Chamber of Commerce. In 2003 he was awarded the Rotary International Service Above Self medal and citation, a recognition given to only 150 persons annually among the 1.2 million Rotary members worldwide.
Dr. Heisler lives in Highland California with his wife, the former Barbara Alderson, whom he married in 1956. Dr. and Mrs. Heisler have four adult children and seven grandchildren. Since coming to the Loma Linda area, they have been active members of the Redlands SDA church where Dr. Heisler has served as an elder for many years. He currently chairs its church board.
It was the privilege of Drs. Clyde Roggenkamp, SD'70, MSD, associate professor, Department of Restorative Dentistry, and Leslie Arnett, DDS, MS'68, professor, Department of Periodontics, to sponsor Dr. Heisler for membership in the American College of Dentists. His record of dedication and willingness to lead in an extensive range of positions, with the highest of ethics and ideals, was undoubtedly instrumental in his induction to this prestigious national organization.