By School of Dentistry - August 7, 2013
Edward Ko, DDS'85, associate professor, Department of Restorative Dentistry, was awarded the Pierre Fauchard Academy Teacher of the Year award by the Southern California Section of the Academy in April during the California Dental Association's Annual Recognition and Awards Luncheon in Anaheim.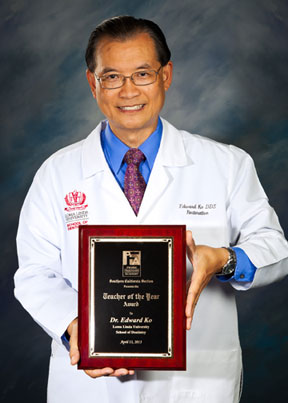 Each year, the Academy presents Teacher of the Year awards to faculty in Southern California's Schools of Dentistry.
Candidates for the Pierre Fauchard Academy award are solicited from senior dental students of the three Southern California Dental Schools. Nominees are then rated for involvement in various aspects of student mentoring from lectures, to research advisement, to mission trips and community and service activities.
The Pierre Fauchard Academy is an international dental honors organization named after Pierre Fauchard (1678-1761), considered to be the Father of Modern Dentistry. The Academy seeks to encourage, through annual awards, outstanding contributions to the art and science of dentistry and service to the profession; and to encourage dental students and foster advancement of their professional and scientific standards and continuing education for all members of the dental profession.
Dr. Ko's route to dentistry began at his birth in Hong Kong. He graduated from the island city's Sam Yuk Secondary School in [1968], earned a Bachelor of Arts degree in mathematics in chemistry in 1973 from Walla Walla University, and, in 1975, a Bachelor of Science in medical technology from Walla Walla University before earning his Doctor of Dental Surgery degree from LLUSD in 1985. After a year's hospital dentistry residency at Loma Linda University Medical Center, Dr. Ko practiced dentistry privately in Bakersfield, California, for fifteen years before serving from 2000 to 2004 as director of the dental department at Hong Kong Adventist Hospital. He has been on the LLUSD faculty in the Department of Restorative Dentistry since September 2004.
Dr. Ko expresses gratefulness to his heavenly father for "the privilege and opportunity to serve here for the last nine years." He and his wife Priscilla, a registered nurse, have two married adult sons and two grandchildren. Dr. Ko is the honorary president and founder of Hong Kong Sam Yuk Secondary School Alumni Association. His avocations include amateur classical harmonica soloist and singing in the New Stream Chinese Chorale and the Heralds of Hope Men's Chorale of Loma Linda University Church.