By School of Dentistry - October 17, 2011
Neal Johnson, PhD, SD'08, associate professor, Department of Oral Diagnosis, Radiology, and Pathology, is the most recent recipient of the $5,000 annual Dr. Arthur A. Dugoni Faculty Award.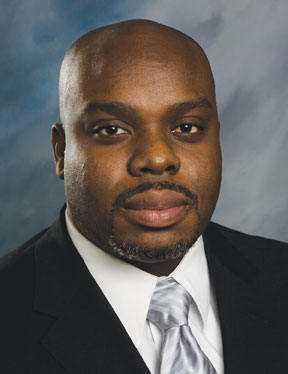 The endowment and scholarship were developed by the California Dental Association in honor of Dr. Dugoni's remarkable accomplishments in organized dentistry and many contributions to dental education in California, and to support individuals who contribute to the scholarly and creative activities of California dental schools through direct contact with students.
 
After reviewing a pool of applications and accompanying letters of recommendation, the CDA's Scholarship Committee chose Dr. Johnson for this year's award. He is grateful for a very complimentary letter to the Committee written on his behalf by Ronald Dailey, PhD, executive associate dean, that he suspects was instrumental in his selection.
 
A native of Barbados, Dr. Johnson has a passion for helping students learn, and, as a consequence, he loves to acquire new ways to assist students with their learning.
 
Dr. Johnson's desire to learn seems almost congenital. He was from his first memories driven to assimilate knowledge. He is the first person in his family to earn a college education, surmounting considerable hardship by sleeping for months on the floor of a rented room in Kingston Jamaica, while earning the Bachelor of Science degree he received in Medical Technology from Northern Caribbean University in 1996. (His parents, now both nurses, followed him with college degrees.)
 
Following graduation, Dr. Johnson remained at Northern Caribbean University for three years as an instructor in the school's Department of Medical Technology and director of its Clinical Practicum to teach such subjects as hematology, immunohematology, immunology, and chemical pathology to undergraduate students while organizing student clinical internships at various hospitals in Jamaica.
 
Dr. Johnson entered a Loma Linda University Graduate School doctoral program in 2000. As a graduate student, he supervised the research of Masters students in microbiology and taught the subject to second-year medical students before receiving his PhD in Microbiology and Molecular Genetics in 2004.
 
With his doctorate in hand, Dr. Johnson joined the Loma Linda University School of Dentistry as associate professor in the Department of Oral Diagnosis, Radiology, and Pathology, teaching microbiology, immunology, and pathology to students in the School's various programs.
 
What was out of the ordinary about Dr. Johnson's initial presence on the School's faculty was that he simultaneously enrolled as a first year dental student and graduated with his Doctor of Dental Surgery degree in 2008.
 
Previous to his Arthur A. Dugoni Faculty Award, Dr. Johnson has twice been honored with the Loma Linda University Chancellor's Award (2004, 2008), has received the Pierre Fauchard Award for Leadership (2007), was inducted into the Omicron Kappa Upsilon Honor Society (2008), and is author on articles published in five different peer reviewed scientific journals.
 
Beyond his teaching duties, Dr. Johnson participates in recruiting trips on behalf of the School, chairs the School's research committee, sits on the board of the Center for Dental Research, and serves as a particularly probing referee during the judging of the annual student research project presentations.
 
Most recently, Dr. Johnson was elected chair of the School's Faculty Council and appointed to Loma Linda University's Faculty of Graduate Studies.