By School of Dentistry - March 11, 2011
LLU School of Dentistry Alumni Association dental hygiene co-presidents (and mother-daughter classmates) Patti Lyon, DH'05, and Kelli Lyon Alexander, DH'05, hosted the annual Dental Hygiene and Assistant Luncheon at San Bernardino's Arrowhead Country Club during the School's February 2011 Alumni Student Convention.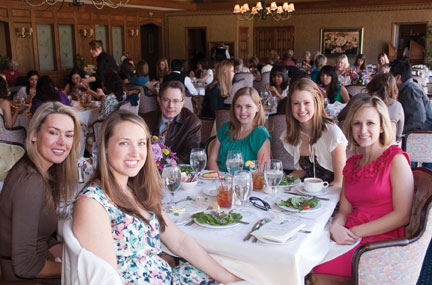 Besides feting the eleven honored alumni classes (beginning with the class of 1961), the homecoming luncheon was the occasion for the presentation of two Department of Dental Hygiene annual awards: the Student of the Year Award and the Alumna of the Year Award.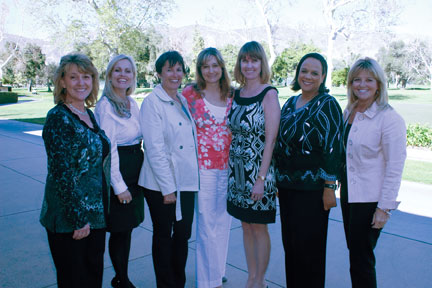 Janeen Duff, DH'81, assistant professor, Dental Hygiene Department, presented dental hygiene senior Angela Wakefield with the 2011 Student of the Year Award.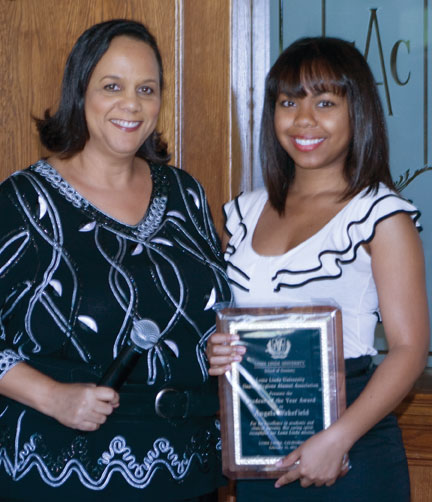 Determined by the dental hygiene faculty each year, the award acknowledges the recipient for both academic and clinical achievement. Ms. Wakefield "is in the top of her class academically and is patient, sociable and giving with classmates," said Ms. Duff. "She has a great sense of humor, and some would call her a bit of an actress, as evidenced in role playing exercises in class! She applies what she has learned academically and synthesizes it into the clinical environment with confidence."
One faculty member said, "I would allow her to clean my teeth now before graduation!" Another faculty member said, "She's good with patients, is refreshing, respectful and always teachable in wanting to learn new things during clinic."
Ms. Wakefield was the first in her class to finish her eligibility requirements, and it was the judgment of her mentors that "she is a stickler for an attention to detail and thoroughness with clinical procedures."
Ms. Duff speculated that Ms. Wakefield's degree in business management "enabled her to hone her exceptional interpersonal skills with patient education, as she counsels patients like a seasoned veteran."
Ms. Wakefield has continued to work part time, while staying on the Dean's List during her rigorous course of study in dental hygiene.
Department of Dental Hygiene chair Kristi Wilkins, DH'80, MA, presented Darlene Cheek, DH'71, with the 2011 Alumna of the Year Award "to an outstanding dental hygienist and alumna who has served her community, our profession and hundreds of students so well during her 40-year tenure."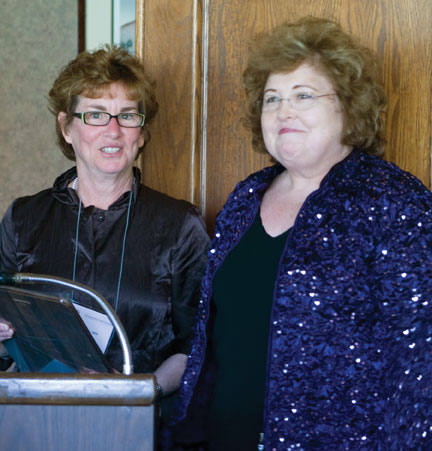 Ms. Wilkins reviewed Ms. Cheek's clinical career that began in the San Francisco Bay area in the early 1970s, before a call to Johannesburg, South Africa, in the mid 70's provided her an opportunity to extend the School's influence to a dental teaching hospital where she was offered the position of director. "I personally crossed paths with our Alumna of the Year while she was an assistant professor of dental hygiene in the late 70s and early 80s," Ms. Wilkins recalled.
In 1978 Ms. Cheek earned a Master of Public Health degree with an emphasis in health education from Loma Linda University's School of Public Health. She was elected into the Delta Omega Honorary Public Health Society that she served as secretary/treasurer. She also served as faculty advisor for the LLU Student American Dental Hygiene Association (SADHA), and was a contributor to the State of California's 1980 Curriculum Guide on Dental Disease Prevention for pre-school—6th grade teachers.
While raising her family, Ms. Cheek practiced full time throughout Redlands, Rialto, Yucaipa, and Rubidoux, serving her patients and dentist employers with the Loma Linda University dental hygiene brand—Christ's compassion and whole person care with a soft touch.
An inveterate contributor to her church and its institutions, Ms. Cheek volunteers with Academy Home and School Associations, as a Sabbath School teacher, and in the LLU Church chamber and sanctuary orchestras. She is a 40-year member of the American Dental Hygiene Association, recently served for two years as president of the Tri-County Dental Hygienists' Society, and most recently as trustee to the California Dental Hygiene Association and the American Dental Hygiene Association.
After months of personal reflection in 2005, Ms. Cheek returned to full-time teaching at the School of Dentistry where she oversees the community health curriculum, dental health education, advanced clinical techniques at numerous off site clinical rotations, and spends hundreds of hours a year planning student involvement in health fairs, dental screenings, and volunteer clinics. Currently she chairs the School of Dentistry's Treatment of Tobacco Dependant Patients Committee.
Ms. Cheek is actively involved with the Society for Research on Nicotine and Tobacco, including co-presenting research in 2009 at the annual session in Dublin, Ireland.
Ms. Wilkins affirmed the words of the students who voted Ms. Cheek 2008 Teacher of the Year: "… hard times on clinic and in class she gave us contagious hope and motivated us to persevere …with her comforting touch in times of stress—her delighted touch in times of celebration—her caring touch all the times in between."
Whether looking back or ahead, the Department of Dental Hygiene has much to be thankful for.