By School of Dentistry - September 2, 2011
The incoming School of Dentistry class of 2015 began its orientation on August 29 in Prince Hall's first-floor amphitheaters where several School of Dentistry administrators introduced them to the challenges, joys, opportunities, and responsibilities (academic, logistic, ethical) that are integral to the doctor of dental surgery program at this Christian university.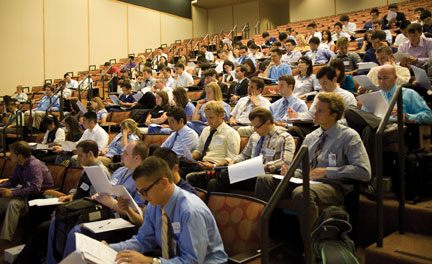 Every matriculating dentistry class is a tapestry of interesting individuals with diverse origins, histories, and expectations. At the class of 2015's Monday morning orientation seminars, Fred Kasischke, DMin, associate dean, Admissions and Service Learning, shared some of the of the statistics that describe the incoming freshmen class, among them the following:
With a cumulative GPA of 3.5 (science, 3.4; non-science 3.6), the average member of the class of 2015 is not average.
The mean age of the class is 26.3, with 21 of its members married.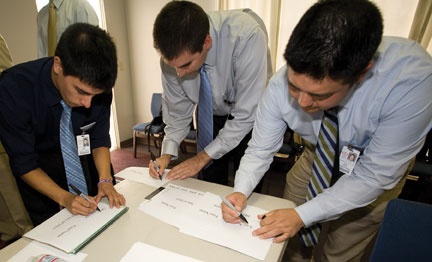 Twenty-six students from the class of 2015 arrived with educational backgrounds from seven countries outside the United States: 16 from Korea, five from Canada, and one each from China, Malaysia, the Philippines, Romania, and Taiwan. Of the 72 who earned their undergraduate degrees in the US, 50 received that education in California.
Eleven of the new class members are the progeny of, or otherwise closely related to, LLUSD alumni.
Dental Admissions Test scores for the class of 2015 are impressive. Its Academic Average (comprised of five scores rounded to the nearest whole number: quantitative reasoning, reading comprehension, biology, general chemistry, and organic chemistry) was 19.8. It averaged 20.88 on the Perceptual Ability Test. And its Total Science score, based on the 100 questions in the biology, general chemistry, and organic chemistry tests, was 20.05.
The future of the class of 2015 looks promising.