By School of Dentistry - May 20, 2010
For the second consecutive year Loma Linda University School of Dentistry senior dental hygiene students participated in Remote Area Medical's Los Angeles (RAM/LA) week (April 27-May 3) during which many Southern California health care professionals volunteered their time and expertise at the Los Angeles Memorial Sports Arena to provide medical services to 6,619 area residents who could not afford health care.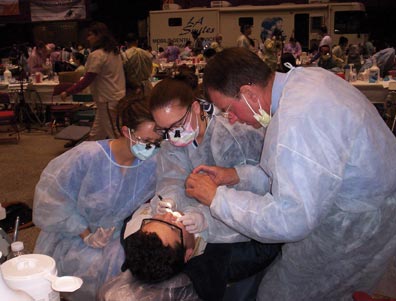 In one day (Sunday May 2) twenty-three volunteering LLUSD hygiene seniors cleaned the teeth of approximately 100 Angelinos—the same number that the School's entire class of junior hygiene students was able to serve in two days during the first RAM/LA event held at the Inglewood Forum in August 2009.
"I was thrilled with the senior's level of skill and care during this service learning event. They shared their time and expertise during a very busy quarter, right before graduation. We all knew of the tremendous need and had fun working together with very appreciative patients," said Department of Dental Hygiene chair Kristi Wilkins, DH'80, MA.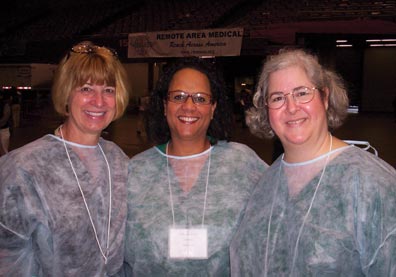 Darlene Cheek, DH'71, MPH, Janeen Duff, DH'81, MA, Marilynn Heyde, DH'74, MPH, Michelle Hurlbutt, MSDH, Trish Lennan, BSDH, and Ryan Cochrane, DH'05, BS, provided faculty dental hygiene oversight; while James Trott, SD'82, MPH, MS, assistant professor, Dental Education Service, volunteered his services as supervising dentist.
Remote Area Medical, the Tennessee nonprofit founded by former Wild Kingdom star Stan Brock in 1985, has provided clinics in some of the world's most inaccessible regions, but now concentrates primarily on providing annual clinics in various cities throughout the United States.