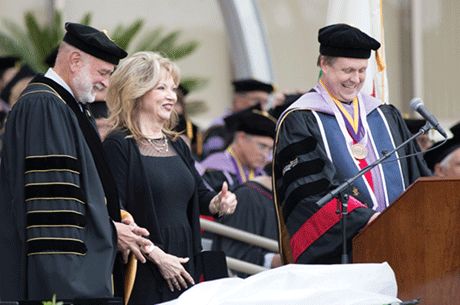 By Douglas Hackleman - August 8, 2019
Debbie R. Catino, clinical manager, Department of Endodontics, was presented at LLUSD commencement 2019 with the School Distinguished Service Award by Dean Robert Handysides, DDS'93, who described her exemplary service.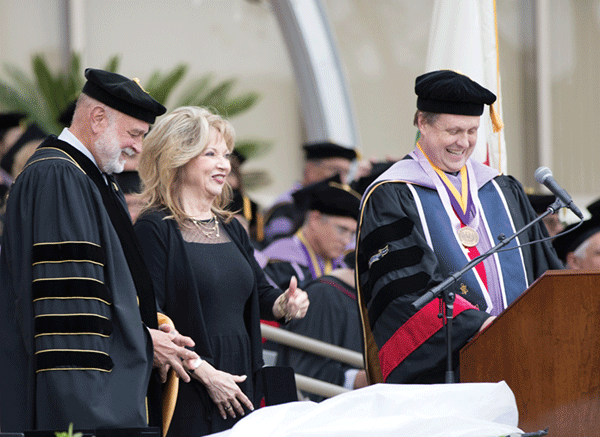 LLUH President Richard Hart, MD, DrPH, participates with Dean Robert Handysides in the award presentation to Ms. Catino.
"A California native, Ms. Deborah R. Catino's exemplary and successful service as clinic manager for the School of Dentistry's Department of Endodontics, spans over four decades. She has played a vital role in the achievement of the mission, and the efficient and effective operation of the department through her positive influence, dynamic leadership, and problem-solving skills. Feeling a strong connection with the dedicated people with whom she has partnered—faculty members, dental professionals, and students who are passionate about excellence—she has a strong commitment to this department.
"Early on, Ms. Catino worked in the business office of an aerospace company that manufactured interior aircraft components; to this day, she can identify and name most parts inside an aircraft cabin. Prior to coming to Loma Linda University, she also worked as an assistant to a very strict "balance to the penny" hospital controller. Her experiences enabled her to enhance and improve patient financial management in the department.
"Family and close friends are foremost in Ms. Catino's life and keep her interests here in Loma Linda and the surrounding areas. When she is not busy working, she keeps herself involved with event planning and other activities that require detailed thinking. She has planned and coordinated many events, such as the Department of Endodontics' 50th Anniversary Celebration.
"Her mission has been to help and support busy students in their quest for higher education and development of the highest patient-care ethics. Knowing that even small gestures on her part are appreciated is a source of great fulfillment for Ms. Catino. She shares, 'My morning prayer is to ask God to show me the resources it will take today to bring happiness to just one person.'
"Her contagious enthusiasm for service at Loma Linda University has inspired her sisters, Cindy Edwards and Cheryl Hoover, and her son, Michael, to also serve in this University.
"For her exemplary, unselfish service that goes beyond expectations, and for her positive, Christian influence, the School of Dentistry honors Deborah R. Catino with the School Distinguished Service Award."