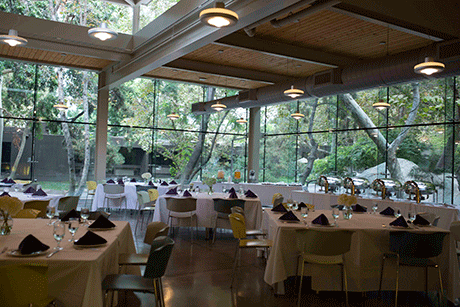 By Douglas Hackleman - February 14, 2020
A recent banquet for the LLU School of Dentistry's Dean's Circle members was held Thursday evening, September 26, 2019, at the salubrious ESRI Cafe on the Environmental Systems Research Institute headquarters' campus in Redlands, California, the Loma Linda neighbor's largest employer.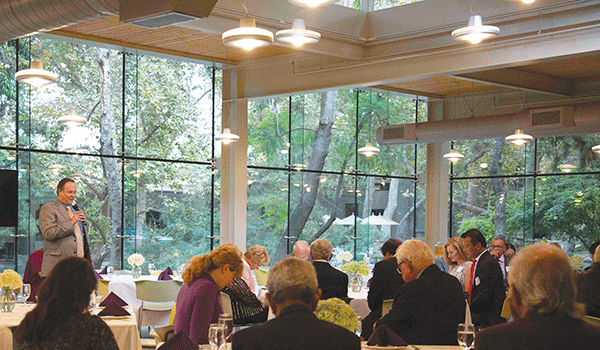 Dean Handysides offers grace.
Dean Robert Handysides, DDS'93, led out during the evening repast attended by approximately three dozen particularly engaged and (primarily) alumni supporters of LLUSD.
Dean Handysides elaborated candidly for a few minutes on the challenges, changes, and conquests LLUSD recently has faced, embraced, and celebrated.
In regard to the reinvigorated Department of Dental Hygiene, Dean Handysides mentioned recent successes of the School's "Bridge Pathway" by which some would-be dental students take dental hygiene to demonstrate their ability to participate in the DDS program. This year (2019) six dental hygiene graduates matriculated to the dentistry program.
The dean stated that the School is investing heavily in digital dentistry—which means significant expenditures on digital (especially intraoral) scanners and an industrial strength (Ivoclar Vivadent PM7, 3D) mill which was featured in the Summer/Autumn 2018 Articulator.
Under what he termed "four big buckets," Dean Handysides discussed "tremendous changes in LLUSD's curriculum" pertaining to 1) dental fundamentals, 2) biomedical sciences and oral ecosystems, 3) patient centered care, and 4) clinical professionalism
Some very basic changes, he said, are finding first-year dental students on the clinic floor paired with upper-class students—an arrangement that will create opportunities to practice four-handed dentistry and collaborative learning. The dean stressed the importance of student clinic work being evaluated over time by the same clinical faculty.
In a reordering of the curriculum, Dean Handysides explained that senior dental students will be taking some basic science course work which should prepare them for those kinds of questions on the Integrated National Board Dental Exam (INBDE).
Discussing the incoming DDS class, Dean Handysides reported the admission of 134 new students in August 2019, a number that included 32 international students. Mixing what were formerly International Dentistry Program students with predoctoral students is designed to create additional opportunities for growth producing, peer-to-peer learning, especially because the international students come with dental degrees and often times considerable practice experience.
Dean Handysides shares a moment with Dr. and Mrs. Wacker.
The attendance of Duane Wacker, DDS'64, NASDAD president during the School's 50th anniversary in 2003, and his wife Charlene, BS (RN), at the recent Dean's Circle led to some memories shared with the Articulator that included Dr. Wacker's role in the Dean's Circle inception. During the 1989 CDA annual meetings in Anaheim, Dr. Wacker visited with a colleague from University of the Pacific Arthur A. Dugoni School of Dentistry (UOP) in the adjacent booth. He mentioned his desire to find a way to raise money for LLUSD, especially from among its alumni. His colleague it turned out was involved in a Dean's Circle for UOP and was all too pleased to tell Dr. Wacker about it, showing him the printed materials used in their mailings to alumni and all the details of the program, including the pins that were presented to members at Dean's Circle occasions. Dr. Wacker was thrilled, but wary about copyright issues that might preclude imitating what the UOP operative was doing. He need not have been concerned. His colleague from the other school reassured him that the idea was not copyrighted or trademarked and gave him copies of all printed materials related to the UOP program.
Back at Prince Hall, Dr. Wacker was delighted to share with Dean Judson Klooster what he'd acquired and the concept behind it. Dr. Klooster was on board immediately, says Dr. Wacker, and Barbara Bostwick, the School's first director of development, soon implemented the concept of a Dean's Circle for alumni who would make an annual gift of $1,500 to the project, program, or endowment of their preference—quite the commitment, given what a dollar was worth 35 years ago.
Dean Robert Handysides heartily welcomes the continuing support of LLUSD friends who promote the growth of this School-enhancing, Dean's Circle philanthropic fraternity.