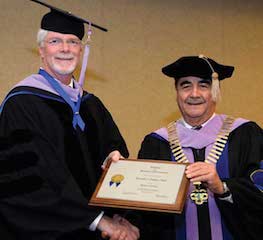 By Douglas Hackleman - November 16, 2016
Ronald J. Dailey, PhD, dean, Loma Linda School of Dentistry, was presented with Honorary Fellowship in the Academy of Dentistry International on October 19 during its annual convocation and awards ceremony in Denver, Colorado.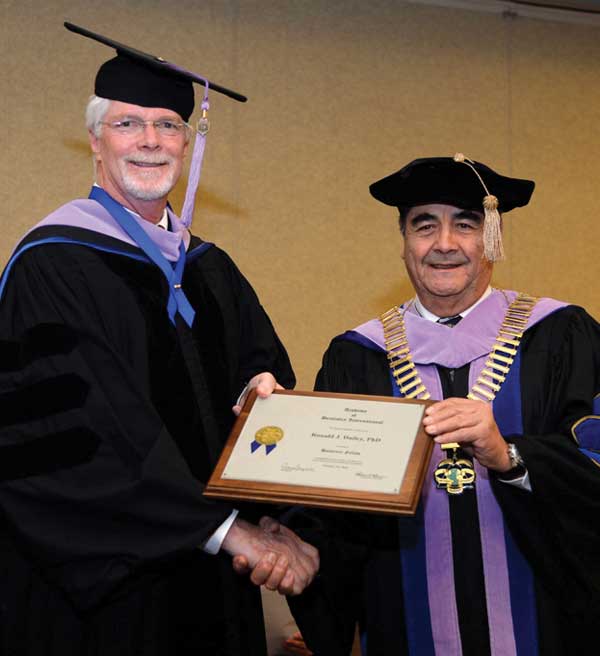 Dr. Dailey was nominated by Ronald Fritz, DDS'72, MPH, chair, ADI USA, for the Honorary Fellowship bestowed on those who through eminent service have promoted the advancement of the profession and human welfare.
After reviewing Dr. Dailey's 39 years of service to LLUSD, ADI President Ramon Baez, DDS, described his contributions "in various capacities for the American Dental Education Association and the American Association of Dental Schools. He has made numerous presentations both nationally and internationally and served as a consultant for Adventist Universities Dental Programs in Argentina, Brazil, Chile and the Philippines.
"Dr. Dailey serves on the City Council of Loma Linda, California and has served as a Board member of The San Bernardino International Airport Authority, the Inland Valley Development Agency, the Loma Linda Redevelopment Agency, and OmniTrans," Dr. Baez concluded.