By School of Dentistry - September 24, 2010
A major shift in the D-1 program brought entering students to the campus two weeks earlier than usual and paired them with George Lessard, PhD, emeritus professor, Dental Education Services. His objective: streamline the Biochemical Foundations of Physiology course to include topics with specific dental applications. He selected ten "hot topics," including water, acids, enzymes, and metabolism, to become the core of the biochemistry course he designed, aware that for students this would be a review of what they had already studied to fulfill dental school prerequisites. "Here is how we look at metabolism as dentists," he would say. "There's nothing new in the course except the application to dentistry."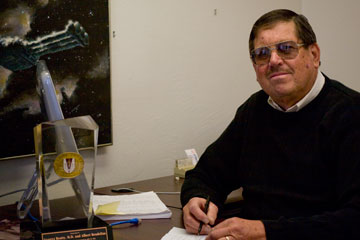 Overriding all his presentations was Dr. Lessard's conviction: Dentistry is a ministry, not just a job. He had a regular reminder: "At LLUSD our slogan is 'I answer to a higher authority.'"
Supplementing the academic focus during three weeks of orientation, the 104 newly arrived students attended lectures by key personnel: Ronald Dailey, PhD, executive associate dean, on professionalism; Graham Stacey, PhD, associate dean, Student Affairs, on ethics; Lane Thomsen, SD'65, MS'74, chair, Oral Diagnosis, Radiology, and Pathology, on the history of dentistry; and 14 practicing professionals on dental pursuit areas, "just in case you want to start thinking about a specialty on the far end of these four years."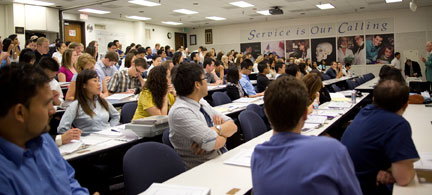 Although staff for a restorative class during orientation was not possible, laboratory sessions were designed to move students quickly into the authentic task of getting their fingers wet. In four laboratory sessions orienting them to the clinic, students alternated in the role of patient and dentist. Heidi Christenson, SD'83, associate professor, Oral Diagnosis, Radiology, and Pathology, and Brian Novy, SD'06, assistant professor, Oral Diagnosis, Radiology, and Pathology, were providing students with hands-on experience to avoid a first-quarter experience of simply sitting down in a classroom and studying.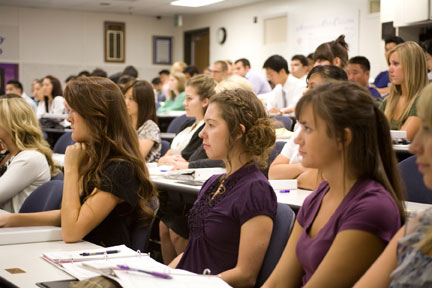 Initial instructions used kitchen vocabulary: "You need a mixing bowl, spatula, and ziplock bag." Donning gloves per the warning, "With glue on your hand, everything will stick to your hand the rest of the day," the students were about to take impressions on each other and pour them up. Another warning from Dr. Novy, "If you're retaking impressions, stop at three and move to another partner. I'm not available to care for occlusal pain."
Novice dentists were soon emerging with their first impression efforts—as well as lopsided moustaches, goatees, and ear-nose-cheek-hair smudges and smears from excess dental materials. Students with initial successful impressions turned to the task of making whitening trays.
At the end of three weeks, students were thinking "dental thoughts." Their revised first quarter, freed up because of the initial biochemistry course, permitted a shift of a course previously taught second quarter. The clock was ticking, and the path to their chosen profession beckoned.