By School of Dentistry - January 24, 2013
Despite a 27-degree thermometer reading at 6:50 Sunday morning, January 13, in the School of Dentistry's northeast parking area, the 23rd annual Clinic With A Heart was, in the words of Paul Richardson, DDS, MEd, associate dean for Clinic Administration, "a truly landmark event that future Clinics With A Heart will have to live up to."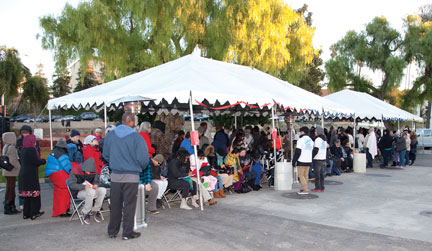 Three hundred forty-six adults and children received an oral exam and either a cavity filled or a tooth pulled or teeth cleaned. And these numbers were due in great part to the extraordinarily robust turnout of 533 volunteers, the most ever to participate.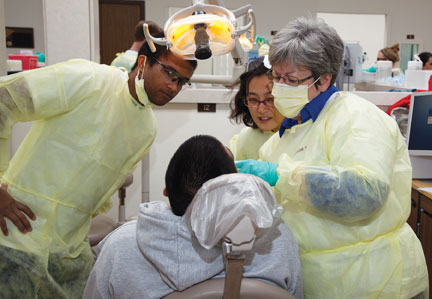 It was particularly rewarding to have the voluntary involvement of so many School of Dentistry students—297 in all: dentistry 186, dental hygiene 85, IDP 26, not to mention the contribution of dental assistants from Chaffey College (18), Riverside County Office of Education/Career & Technical Education (16), and Baldy View ROP (11) who contributed their services.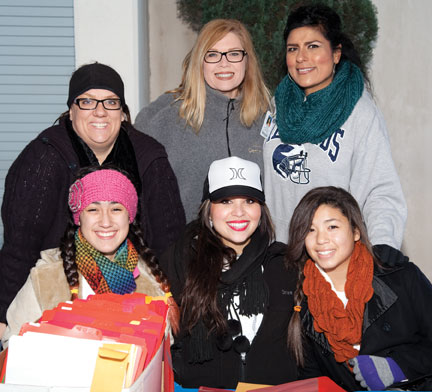 Under the direction of Dee Hart, DrPH, CPNP, associate dean, undergraduate program, School of Nursing, 11 nursing students took the blood pressure of each prospective patient.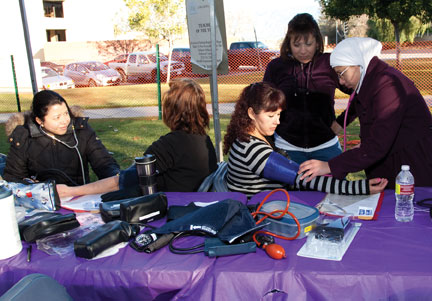 Dr. Richardson noted "how well organized this event was this year," a tribute to Mary Hartwell, the School's dental clinics manager, and her three administrative assistants, Robin Fierro-Navarro, Miriam Yanez, and Lydia Partida, who since 1990 have overseen the annual event.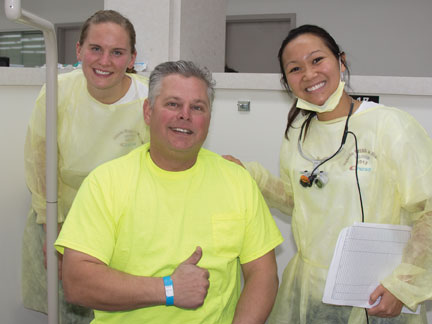 Procter & Gamble sponsored the printing of 450 T-shirts, and contributed $ 4,500 to the Needy Children's Fund, while Crest representative Mary Lontchar, RDH, MA, assisted with dental hygiene screenings.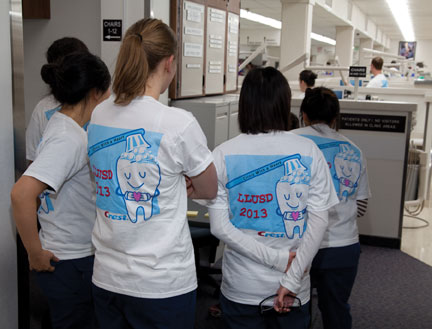 Although the success of the event is best represented by the number of individuals who left pleased with the improved condition of their teeth, another index of the event's success is the services provided in dollar figures: total adult clinic production was $40,501, and total pediatric clinic production was $4,521, for a combined Sunday production of $45,022. (These figures are based on LLUSD's reduced student clinic rates.)
     
Making potential patients aware of the opportunity is a challenge that a variety of local media outlets are kind enough to assist with—especially local newspapers and church bulletins. And new (social) media and old (word of mouth) media are both very useful. A first-time gathering of referral sources from a large proportion of Clinic With A Heart patients revealed that the largest contingent (81) were aware of the opportunity for treatment by word of mouth; 50 were referred by the vague "other" category; 29 responded to a Press Enterprise announcement; 16 were notified by church bulletins; and another 16 saw the opportunity in an email to Loma Linda University employees. Social media (Facebook) accounted for 10 patients and the San Bernardino Sun another five.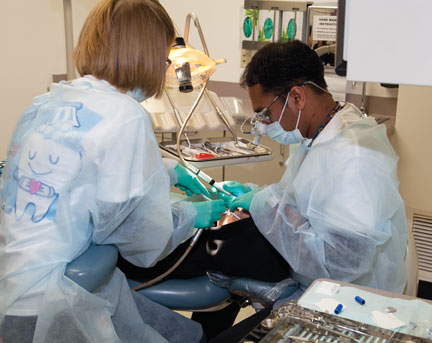 Ultimately, Clinic With A Heart is a reflection of the LLUSD motto: "Service is our calling." With that in mind, Dr. Richardson thanked "the school family and many volunteers from many places that made room in your hearts to provide care this Sunday for over 350 persons.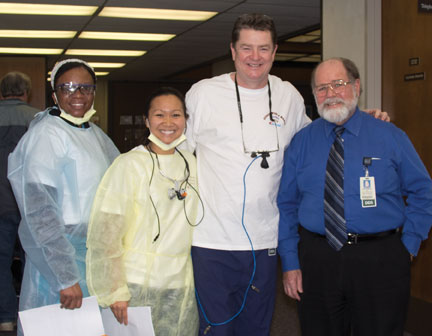 "We truly have a responsibility to help the entire world," he added, "but many times charity must start at home."