By School of Dentistry - February 23, 2010
It's 38 degrees at 12:30 a.m. when Michael, Tashie, and Irene drive from Grand Terrace to Loma Linda. They become the first in line at LLUSD's Clinic With a Heart on January 24, 2009. For warmth, they rotate in and out of the car, under the watchful eyes of the overnight crew supervised by Kevin Staff, who has set up the clinic's outdoor security system.
The first patients watch as others arrive: two from Anaheim and Barstow pull in after them. Dorothy, arriving at 3 a.m., has come from Inglewood. She has been here before, and she hastens to add, "I was here for a filling. You get good treatment. The doctors oversee the work."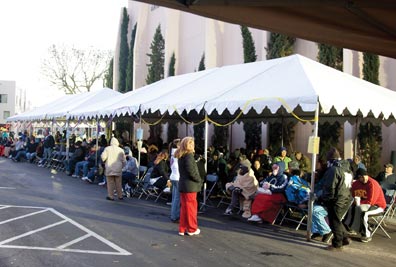 Holding his chin, the man from Fontana (arrival 6:15) admits, "I haven't seen a dentist in seven years." He is sitting in a tent with 300 chairs rapidly filling. The tent, chairs, tables, trash cans, floodlights, and pop-up tents for staff were set up by the University engineering team providing free assistance in a driving rain on Friday, two days earlier.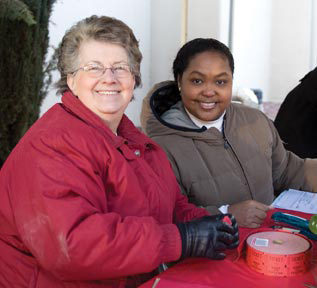 When the nursing student team arrives with blood pressure instruments, the crowd has grown in spite of the cold. The nursing students, under the supervision of Dr. Dee Hart, associate dean, LLU undergraduate nursing program, and Esther Valenzuela, a nurse as well as an LLUSD admissions officer, will be taking blood pressure readings in the initial screening. Self-reported needs go on a chart, and the patient receives a color bracelet to indicate "pediatric patient," "cleaning candidate," or "filling/extraction possibility."
Inside Prince Hall, lights come on in the clinics. Approximately 200 operatories in seven clinics are being readied for patients. By 7 o'clock the first 30 patients gain respite from the cold as they enter Prince Hall. By 10 a.m. more than 200 will have passed through the radiology clinic. There a 20-year veteran of Clinic With a Heart, Carol Sorrells, supervisor of radiology, has organized a team of 11 volunteers to work with Dr. Reggie Padgett, who oversees x-ray procedures.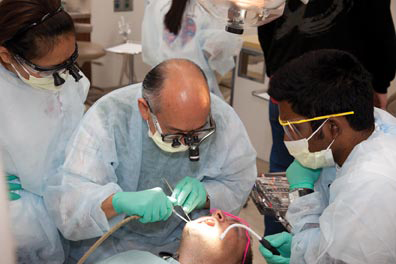 In the International Dentist Program clinic, 16 dentists are at work. Dr. Hanan AL-Haddadin from Jordan, a 10-month student in the IDP program, expects to do fillings and extractions. Dr. Harveeer Kaur of India is volunteering at an IDP operatory; she has applied to attend LLUSD's IDP program. Having explored several IDP programs, she announces firmly, "I want to get in this school only." She's looking forward to using her dental skills today.
Lines form on the right and left of the hallway leading to the main clinic. Forty-one dental hygiene students and 158 dental students await their patients. Rebecca Schomburg, DH'10, admits, "I slept through two alarms. It's Sunday, after all!"
 Why is Scott Arceneaux, SD class of 2011, here? "I love helping people," he says simply. "I love to manage people with trauma. It's my favorite thing in the world. I love the challenge." He emphasizes the importance of having a relationship with a patient. "It's a lot about empathy," he adds. "This program is good for the community. It's a tough time for people right now." Scott finds his patient and heads for the clinic.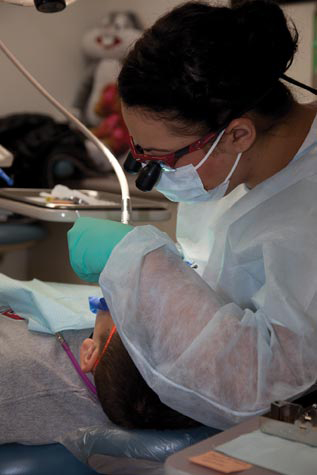 One hundred percent of the residents, faculty, and staff of the oral/maxillofacial program are in the oral/maxillofacial surgery clinic, according to Zolton Horvath, manager of the oral/maxillofacial clinic. Clinic With a Heart will process 120 simple extractions and 14 surgical extractions today. When screening in the x-ray clinic ends, that area will also be used for surgery.
Gathered in a tight circle, ten dental assistant students listen as their teacher, Dawn Klein of Baldy View Regional Occupational Program, prepares them. "Are you going to be nervous?" she asks. "I need to hear you are comfortable. Are you going to hold back and say, 'No, you go,' or are you going to be assertive? This is not a time to be scared."
 Dawn Klein's 13-year-old son, Thomas, is also volunteering. "I'm working in the supply clinic," he explains. "I check stuff out, like gloves, and record it on the computer." He is working with Christina Khachatourian, clinic supplies supervisor, another volunteer spending Sunday with her team on the job.
In central sterilization, the tasks for Sonja Haynes and her crew began Friday afternoon, when they processed instruments in preparation for Clinic With a Heart. When the last patient leaves today, they will stay by to sterilize Monday morning's supply of instruments.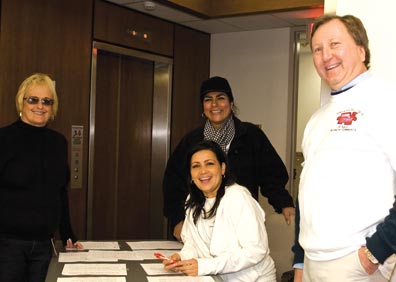 The patients begin emerging from the clinic. Lauren expresses gratitude: "I'm grateful. It's a true blessing that these dentists and dental hygienists are giving their time."
"I was really scared," says Helen, a patient who arrived at 2:30 a.m. and is smiling at 9 a.m. "I have had lots of bad experience with my teeth. I was in very good hands today. I couldn't even feel the injection."
Lorraine from Salt Lake City may be the patient from the greatest distance. She has had an extraction and hygiene treatment.
In pediatric dentistry, Dr. Bonnie Nelson, department chair, and Lillian Andrade, supervisor of the pediatric dentistry clinic, have organized a team of faculty, residents and staff. Assistants are necessary here to provide the uniform care needed because of the fear factor in children. The complaint of Damion, 13, centered on a new tooth emerging over what turned out to be pieces of his primary tooth still embedded in his gum. "They had to slice the gum to get pieces of tooth out," he says soberly.
Two teenaged patients receive directions to endodontics residents. Drs. Joseph Packer and Ashraf Harhash will save teeth that otherwise would have required extraction. A repair for one on a lower six-year molar rewards the teenager who had been waiting since 2:30 a.m. The other patient, with otherwise healthy teeth, finds relief from suffering with a cavity all the way to the nerve.
A massive organizational team led by Mary Hartwell prepared the smooth operation of Clinic With a Heart. The procedures dispensed reached a value of $32,767 (at LLUSD's reduced price rate). A patient turnout of 223, smaller than normal—perhaps because of the cold weather—became a plus for those who needed more than one procedure, which had been a necessary limit during previous clinics when balmy weather brought a turn-away crowd.
Notable assistance in the day's venture came from the event's co-sponsor, Proctor and Gamble, whose representative, Gary Peterson, has become a familiar figure at nearly a dozen of LLUSD's Clinic With a Heart. His company provided tee shirts for the 481 volunteers (faculty, students, staff and others), toothbrushes and toothpaste kits for the patients. Proctor and Gamble will also contribute $1,000 for children coming to the pediatric clinic with extensive needs.
LLUSD's Clinic With a Heart was celebrating its 20th session. Begun in 1989, and functioning annually with the exception of one year, the clinic was the dream of Dr. Leif Bakland. "When I took over as clinic director," he says, "I remembered 20 years before as a dental student we occasionally had a Sunday devoted to what we called 'Welfare Clinic.'"
It was Dr. Bakland who proposed to Ron Secor, then the financial officer in the clinic, "Why don't we suggest to the officers in the Dental Student Association that we put on a clinic for people who can't afford very much?"
The idea came from a national organization, Doctors With a Heart Day, whose members opened their offices one day a year to anybody who needed dental care. Following up on the suggestion, Dr. Bakland found the student officers ready to do what turned out to be "a great job."