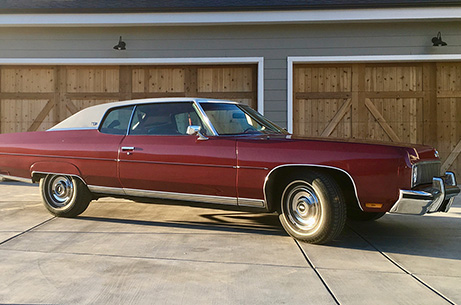 By Douglas Hackleman - June 14, 2021
A 1973 Chevrolet Caprice Classic 2-door driven by Gregory Mitchell, DDS'84, MBA, assistant professor, Division of General Dentistry, spanned and participated in LLUSD history (the remembering and the creating) as it transported graduating dental students from the classes of 2020 and 2021 through the recent precautionary carmencement alternative to traditional commencement services.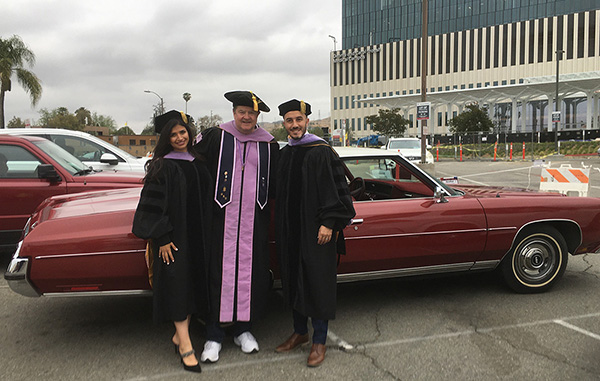 Dr. Mitchell is bracketed by Dr. Daras and Dr. Alqadoumi.
The pristine 1973 automobile was first owned by Hilbert "Bert" Lentz, Jr., DDS'57, MS'70, an inaugural class graduate who served on the LLUSD faculty from 1979 to 2011, the last surviving instructor from the original class of 1957.  
Dr. Mitchell purchased the perfectly maintained car from the Lentz family in 2018 and used it to chauffeur Noor Daras, DDS'20 (IDP), her husband Thaer Alqadoumi, DDS'16 (IDP), and their two small children through the 2020 carmencement event on Sunday May 2, 2021.
As an alumnus and graduate student in the Advanced Dental Education Program in Periodontology, Dr. Alqadoumi had the pleasure of presenting Dr. Daras with her diploma.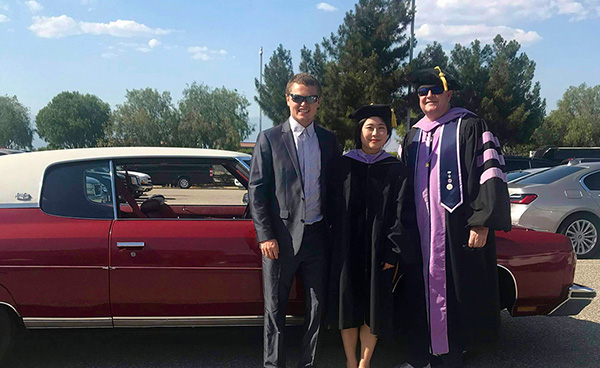 Dr. JinHee Choi stands between her husband and Dr. Mitchell.
And then again on May 30, 2021, Dr. Mitchell used what the Lentz family has called "the burgundy chariot" to chauffeur JinHee Choi, DDS'21 and her husband Matthew Jhonson through the graduating procession.
Dr. Mitchell says he finds it "a meaningful pleasure to connect generations of dental school alumni and an honor to participate in making official what these young graduates have worked so hard to achieve."