By Rachel Terwillegar - September 29, 2011
It is important that those of you who generously support the School of Dentistry know that your unrestricted Century Club contributions apply specifically to the Alumni Association and that the end of the qualifying period for 2012 Alumni Association Century Club membership is December 31, 2011.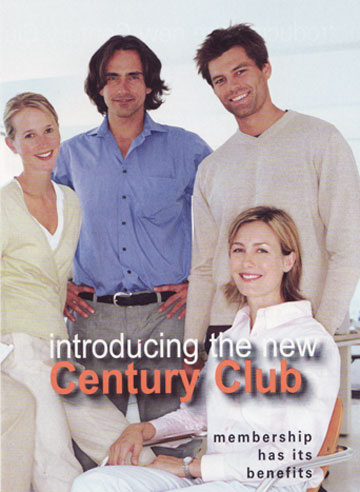 We believe that the greatest reward for your support of the Alumni Association is the knowledge that it secures the fine educational traditions you experienced as a student at Loma Linda University.
The benefits of Century Club membership are based on four levels of giving—Bronze ($100), Silver ($500), Gold ($1,000), and Student ($50).
BRONZE level members receive in appreciation a membership card, their name (by class) published in Dentistry journal; access to employment opportunities at the alumni section of our website: www.llu.edu/dentistry; and the BETA version of the online Alumni Directory.
SILVER level appreciation benefits include all that the Bronze members receive plus a 10 percent discount on lecture-only on-campus LLUSD continuing education courses (including submissions for CEU credit from recordings) and a 10 percent discount on Alumni Association purchases, e.g., badge holders, scrubs, lab coats, watches, etc.
GOLD level members receive, in addition to the Silver level benefits, a 10 percent discount from the LLU Campus Bookstore (excluding computers/textbooks/some medical supplies); access to Del Webb Library "Friends of the Library" valued at $75 (physical assets only, not including access to licensed online databases); and a membership certificate suitable for framing.
DEAN'S CIRCLE ($1,500) In addition to Gold member benefits, those making a gift to any Alumni Association fund at this level will be invited to become members of the Dean's Circle. The Dean's Circle is not a fund, but a leadership giving society to encourage annual contributions. New graduates become members of the Dean's Circle with a gift of $150 the year they graduate, increased by $150 each year after graduation, until they are making an annual gift of $1,500. Click here for the Dean's Circle brochure.
To encourage the philanthropic spirit and practice, STUDENT level members receive all the benefits of GOLD Century Club membership. With an annual gift of $150, students also receive an invitation to Dean's Circle membership.
Each gift, regardless of size, is important to your Alumni Association and its effort on your behalf to provide scholarships for students who are involved in student mission encounters (at home and abroad), to fund the annual Student Dedication Service where first-year students receive a Bible, and last-year students a white coat; as well as to fund scholarships and provide loans at attractive rates for those having difficulty financing their educational program.
To donate securely online, please click on this link.
For further clarification of the Century Club giving levels or Dean's Circle membership, please contact the Office of Development at (909) 558-4754 or email sdgiving@llu.edu.