By School of Dentistry - July 13, 2010
Action taken at the most recent (July 8) meeting of the Dental Alumni Association Board of Directors resulted in a happy surprise to four School of Dentistry alumni—three from dentistry and one from dental hygiene—who no doubt are congratulating themselves for participating in the Free Drawing for Apple iPad.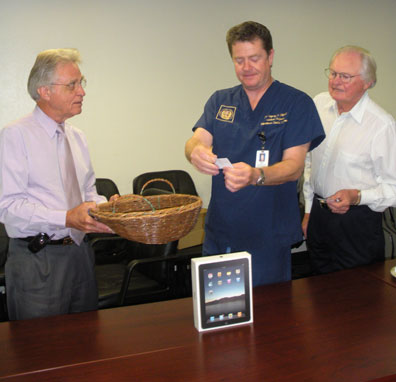 The purpose of the Free Drawing was to increase awareness of the need for support of the Alumni Association Annual Fund. The Annual fund provides support for the student dedication service (engraved Bibles and embroidered white lab coats), as well as scholarships for international mission clerkships, faculty research, and many other student activities.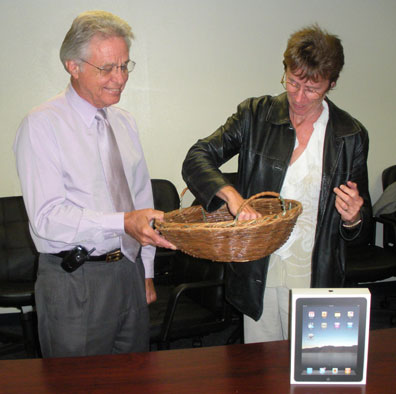 Initiated by the officers of the Alumni Association, the drawing was open to alumni, faculty, staff, and donors. Each was mailed an appeal for support that contained a Free Drawing ticket. The appeal was sent to more than 6,000 individuals in late May, and concluded on June 30.
The LLUSD Board of Directors conducted the formal drawing of four names from the returned tickets. President-elect Gregory Mitchell, SD'84, director, International Dentist Program; President Thomas L. Thompson, DDS '60, MS '64; and Century Club chair, Steve Morrow, DDS '60; selected the tickets mailed in by three winners: Daniel Mertz, DDS'90, Auburn, California; Donald Trunkey, DDS'80, Bakersfield, California; and Brian Evans, DDS '90, Reno, Nevada. Jeri Fowler, assistant director, Dental Alumni Association, selected the ticket of a fourth and final winner, Susan Mace, DH'84, Loma Linda, California.
Alumni and donors contributed the $500 iPad prizes for the drawing. Rachel Terwillegar, Director of Development, says that if additional iPads (or an iPhone4, Kindle, etc) are similarly sponsored, another drawing could be held as part of the annual fall appeal for support of the Alumni Association.