By Douglas Hackleman - May 22, 2017
Despite a morning drizzle, the 32nd annual LLUH Children's Day Fair was a rousing success, with 1,665 children from around the Inland Empire enjoying entertainingly presented health education.
The LLUSD mobile clinic was a popular venue.
Hosted at a variety of educational stations on the University quadrangle, rudimentary oral health care instruction was provided young learners at the School of Dentistry's three-table station and in the School's two-chair mobile clinic—all served by 50 LLUSD students, faculty, and staff along with five volunteer dentists and one dental assistant from the Jerry L. Pettis Memorial Veteran's Medical Center (see box below).
A young lady practices her brushing with a near sterile technique.
Particularly engaging was the sight of youngsters bringing their favorite stuffed animals on which to practice tooth brushing under professional scrutiny. Children also used cardboard x-ray machines to image the mouths of their animals and sometimes friends or siblings. Their participation was rewarded with oral hygiene freebies that included toothbrushes, toothpaste and a coloring book.
Dental hygiene seniors enjoy helping a very young radiology technician (L-R): Bonnie Smith, Taylor Larsen, Ashton Izydorek, and Brianna Melgar (taking photo).
Practicing on their stuffed animals, or those provided at the Fair, children became acclimated to basic procedures they may encounter when they visit the dentist and thereby limit anxiety over the unexpected even as they learn the importance of personal oral health care.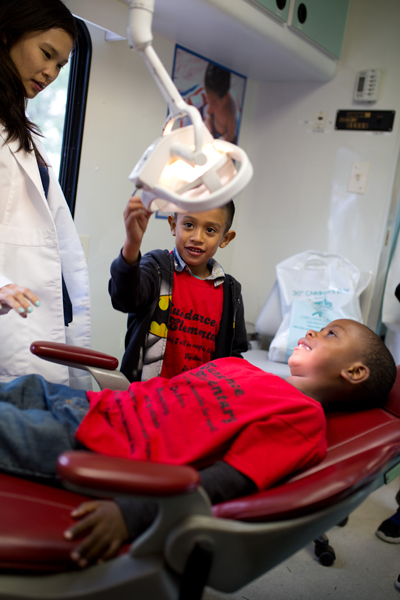 Susan Xu, DDS, 1st-year pediatric dentistry resident monitors a couple of possible future dentists.
This 32nd annual Children's Day Fair attracted more media attention than usual—a two minute-segment ran on KABC TV Eyewitness News: http://abc7.com/health/loma-linda-university-childrens-hospital-celebrates-32nd-childrens-day/1986681/  ABC7 Health Specialist Denise Dador interviewed Dorothy Brooks, LLU Children's Hospital child life and bereavement specialist, who coordinates the annual event. Brooks told Dador that the Children's Day Fair helps youngsters "understand that when they come to the hospital it's a place for helping them." The event is "all about learning how to live healthy and safe lives," she added.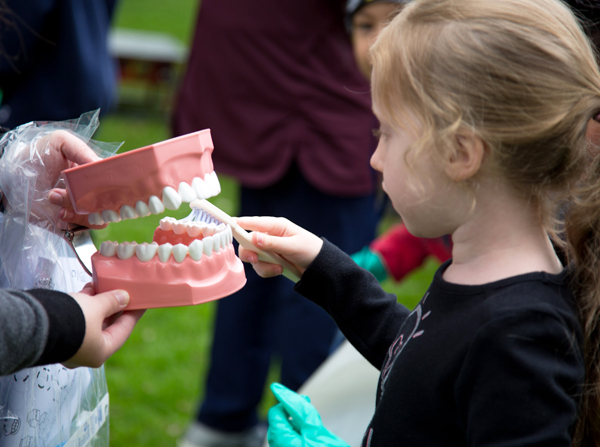 A young lady learns best brushing practices.
A write-up appeared in the Redlands Daily Facts: http://www.redlandsdailyfacts.com/social-affairs/20170510/loma-linda-university-childrens-hospital-shows-young-students-about-medical-field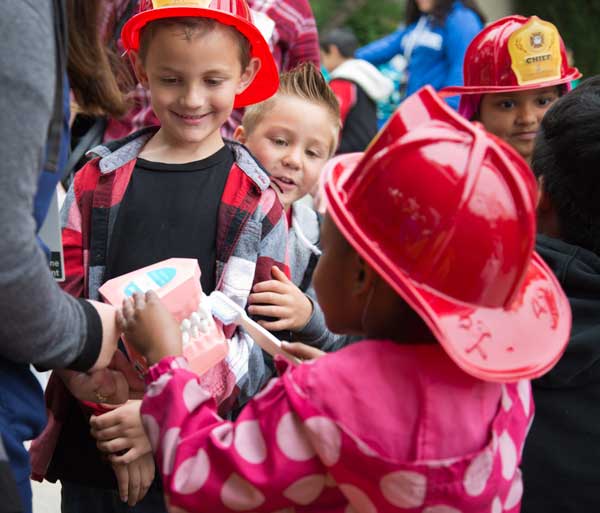 Young firemen engage teeth.
Jeri Fowler, RDAEF2, OA, assistant director, Alumni Affairs, organized and staffed the School of Dentistry's oral health care station.