By School of Dentistry - February 16, 2012
Since 1996, in a tradition suggested by then fourth-year dental student Polly Sprague-Nichols, late on the Friday afternoon of each annual School of Dentistry Alumni Student Convention there is a dedication service for the first year and graduating class students. As gifts from the School's Alumni Association, first-year Doctor of Dental Surgery, Dental Hygiene, and International Dentist Program students are presented, one-by-one, a leather-bound Bible embossed with the student's name; while the graduating class members from each of the three programs also take the platform individually to receive (and don) a white lab coat embroidered with the student's name and the School's logo.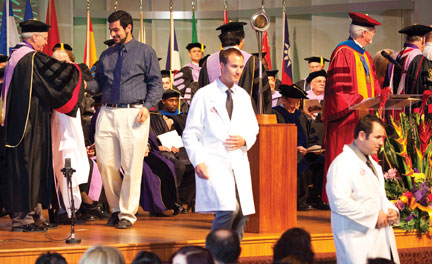 In an expansion of this tradition, the 2012 dedication ceremony included the presentation of personalized Bibles to nine new School of Dentistry faculty members.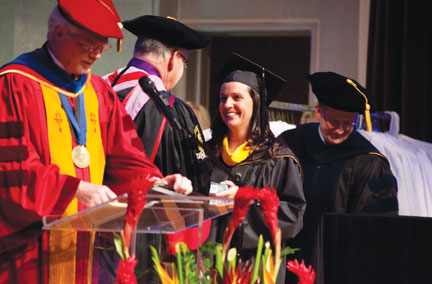 This year's dedicatory homily was presented by Michael Knecht, MDiv, project manager, Department of Mission and Culture, Loma Linda University Medical Center. "Do the things that make you proud," said Pastor Knecht, in a brief address that focused on the story of Eddie "the Eagle" Edwards, Britain's greatest ski jumper, and his last place finish in that event at the Winter Olympics of 1988.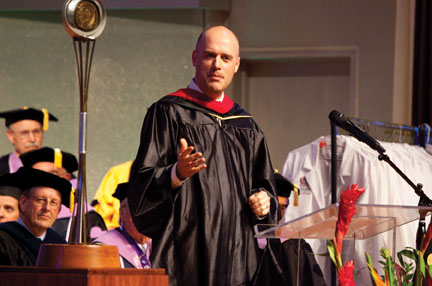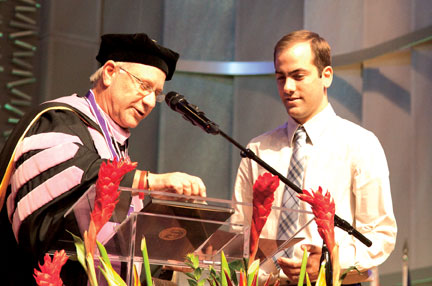 Aaron Tenzer (dentistry class of 2012), credited with 463 local and international service learning hours, was the recipient of the Award for Christ-like Service presented by Mike Boyko, SD75-A, MPH, assistant professor, department of oral and maxillofacial surgery.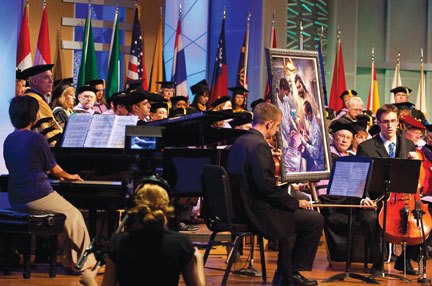 The ceremony was graced musically with Felix Mendelssohn's Andante Con Moto, Piano Trio in D Minor through the artistry of LLUSD alumnus Andrew Ordelheide, SD'08 (violin), and School of Dentistry students Douglas Baasch, D2 (cello), and Elizabeth Ordelheide, D4 (piano).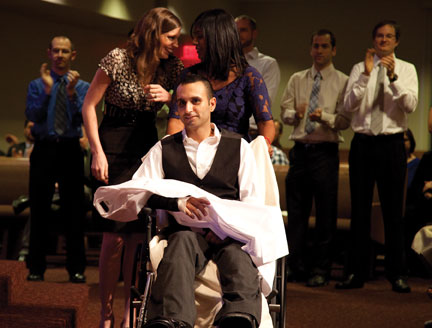 Additional photos from the Dedication Service: