Wesley Okumura, DDS'94, MS, assistant professor, Department of Pediatric Dentistry, is the first School of Dentistry faculty clinician to receive the Healing Hands silver pin awarded to LLU Health care providers and support staff whose patients have made a point formally and tangibly to acknowledge their appreciation for their compassionate care.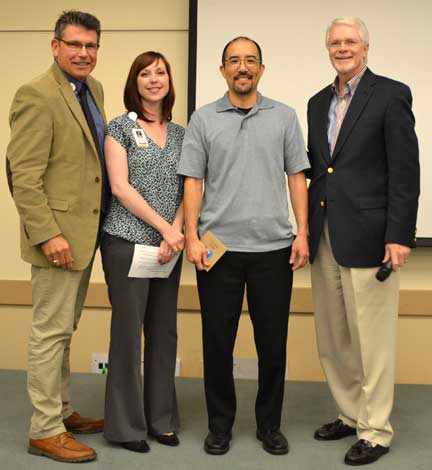 In the case of Dr. Okumura, the mother of a pediatric dentistry patient, an Adelanto woman on Social Security, said, "Going to the dentist has been a living nightmare for us, but Dr. Okumura and helpers made it pleasant and restored our faith in dentistry, the Seventh-Day Adventists, and in God!"
"It sounds like a letter written by your mother," Dean Ron Dailey joked, as he awarded Dr. Okumura his pin, March 20, 2015, during Faculty Advance Seminar in the Wong Kerlee International Conference Center.
By making a gift through Healing Hands, patients affirm their caregiver. Whether the gift is $10, what the Adelanto woman called her "widows mites," or $10,000, it is appreciated for what it means as well as how it can improve the place in which caregivers have invested their careers and, in many cases, their hearts.
Since the "Healing Hands" program began a little over a year ago, 69 physicians, nurses, and support staff have been recognized by patients through the Healing Hands lapel pins backed by generosity that exceeded $8 million in gifts to Loma Linda University Health from grateful patents.
The School of Dentistry has just begun its own Healing Hands participation and expects soon to see many more of its compassionate caregivers pinned.
Healing Hands provides an opportunity to recognize and encourage the special people who make this organization a place for healing and wholeness.
When a gift is made, the honored caregiver is sent a Healing Hands recognition card that may have a signed message or be anonymous, to let him or her know that their special care did not go unnoticed.
For more information, please call the Office of Philanthropy Healing Hands at 909-558-4438 or email us at giving@llu.edu  Or visit www.lluhealinghands.org