2003 Dental Hygiene Alumna of the Year Award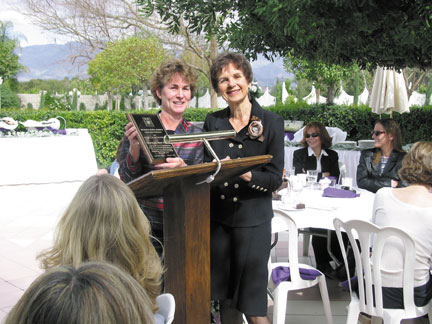 Pearl Zalaski McDonald, DH '71, (right) accepts the Alumna of the Year award from Kris Wilkins, DH '80, chair, dental hygiene.
Pearl Zalaski McDonald, DH '71, was named Dental Hygiene Alumna of the Year during the dental hygiene luncheon on Friday, February 7, 2003.
Ms McDonald held a full-time clinical teaching position with the dental school from 1975 to 1981 in the dental hygiene department, giving instruction in the DAU/TEAM program from 1971-75. Since 1976, she has been involved in part-time clinical instruction, and has patiently interacted with students in labs and clinic every quarter since 1975. During the late 1970's, Ms McDonald served as a consultant for the Riverside County Head Start Program providing dental health education inservice training for staff, students, school nurses, and parents. In addition, her involvement in dental health education extended into inservice training at a halfway house for Patton State Hospital personnel.
In July of 1993, Pearl took part in a cultural exchange program with Russian dental educators, lecturing on oral health care during a Volga River Cruise. She also helped a private dental clinic in St. Petersburg set up their first plaque control program. Since her mission trip to Russia, she has continued to work with the Center for Citizen Initiative providing plaque control seminars to visiting Russian dentists.
She is married to School of Dentistry alumnus Erwin McDonald, DDS, of the class of 1961 and has lived in Loma Linda since her graduation from the dental hygiene program.