2002 Dental Hygiene Alumna of the Year Award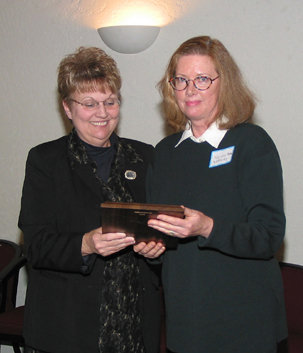 (Right) Karen Simpson, DH '78, dental hygiene department chair, presents the Dental Hygiene Alumna of the Year Award to Karen Kotoske, DH '67 at the dental hygienists and assistants luncheon on February 8th.
The Dental Hygiene Alumna of the Year Award for 2002 was presented to Karen Kotoske, class of 1967 during the Dental Hygiene and Assistants Homecoming luncheon on February 8.
Ms. Kotoske felt God's call to service during a visit to Mexico where she witnessed the desperate need of the Huichol Indians in the western part of the country. Ms. Kotoske is the director of Amistad Foundation which was organized more than 20 years ago. Amistad is a Spanish word meaning friendship. The Foundation's goal is to provide opportunities to enable people to help themselves. This includes working through medical/dental clinics to provide emergency and primary care, nutrition, substance abuse care and education, and sustainable agriculture education projects. Recently, Amistad has expanded to other countries including Africa and Mongolia.
Ms. Kotoske resides in the Bay area with her attorney husband, Tom. She practices as a dental hygienist and assists her dentist in providing dental care to animals at the San Francisco Zoo.