2011 Dental Hygiene Alumnus of the Year Award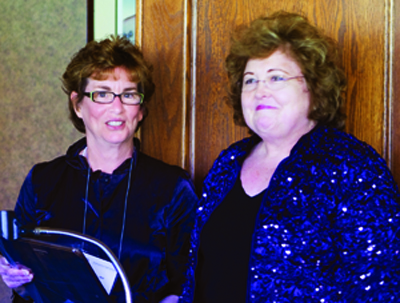 Kris Wilkins, DH'80, MA (left) presents Darlene Cheek, DH'71 with the 2011 Dental Hygiene Alumnus of the Year Award.
Ms. Wilkins reviewed Ms. Cheek's clinical career that began in the San Francisco Bay area in the early 1970s, before a call to Johannesburg, South Africa, in the mid '70s provided her an opportunity to extend the School's influence to a dental teaching hospital where she was offered the position of director. "I personally crossed paths with our Alumna of the Year while she was an assistant professor of dental hygiene in the late '70s and early '80s," Ms. Wilkins recalled.
In 1978 Ms. Cheek earned a Master of Public Health degree with an emphasis in health education from Loma Linda University's School of Public Health. She was elected into the Delta Omega Honorary Public Health Society where she served as secretary/treasurer. She also served as faculty advisor for the LLU Student American Dental Hygiene Association (SADHA), and was a contributor to the State of California's 1980 Curriculum Guide on Dental Disease Prevention for pre-school - to sixth grade teachers.
While raising her family, Ms. Cheek practiced full-time throughout Redlands, Rialto, Yucaipa, and Rubidoux, serving her patients and dentist employers with the Loma Linda University dental hygiene brand - Christ's compassion and whole person care with a soft touch.