2005 Dental Hygiene Alumna of the Year Award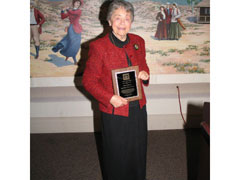 Arlene J. Klooster, DH '71 was named Dental Hygiene Alumna of the Year during the dental hygiene luncheon on Friday, February 11, 2005.
Mrs. Klooster entered the dental hygiene program in the late 60s, while she was a mother of three beautiful daughters. She was active in her class and according to the people I've interviewed, "she had a direct line to the Dean's EAR." During her student years, her class was able to change a long standing tradition of wearing white see-through dresses, to wearing white see-through pants!
She practiced for many years as a hygienist in Hemet, during which time she attended School of Dentistry meetings, luncheons, graduations, capping/pinning ceremonies, traveled abroad and entertained numerous guests of the School of Dentistry at her home.