Advanced Specialty Education Program in Prosthodontics
Program Director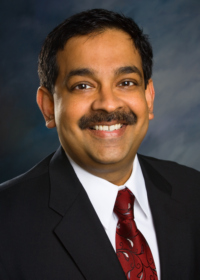 Mathew Kattadiyil, DDS, MDS, MS, FACP
Professor of Prosthodontics
For a list of other Faculty for the Advanced Specialty Education Program in Prosthodontics, click here
General Information
| | |
| --- | --- |
| Accreditation status: | "Approval" (next accreditation 2016) |
| Length of program: | 36 months in residence |
| Number of applicants accepted each year: | Four (4) |
| Applications accepted as of: | January 1st each year |
| Application deadline: | August 1, 2016 |
| Program start date: | July 1, 2017 |
Application Method
Contact Information
Program Description
The Advanced Specialty Education Program in Prosthodontics is designed to increase the knowledge base and clinical and laboratory skills of the student in all areas of prosthodontics. In addition to conventional fixed and removable prosthodontics, this program offers considerable experience in esthetic dentistry and implant prosthodontics (to include surgical placement), an introduction to maxillofacial prosthetics, and the diagnosis and treatment planning of patients with temporomandibular dysfunction (TMD).
Comprehensive treatment planning seminars with the students and faculty of other graduate programs are designed to prepare the student to interact with and coordinate the treatment of patients requiring advanced prosthodontic treatment.
The goals of the Advanced Specialty Education Program in Prosthodontics are:
| | |
| --- | --- |
| Goal 1 | To educate graduate students of the Advanced Education Program in Prosthodontics to become proficient in the delivery of prosthodontic care. |
| Goal 2 | To train students to perform at the level of proficiency for the full range of clinical procedures that are considered an integral part of the specialty of prosthodontics.  Utilize experienced, highly competent faculty who are recognized by the specialty.  Accomplish management of patient's prosthetic needs successfully so that the patients are satisfied, comfortable and acceptably treated in a timely, efficient manner. |
| Goal 3 | To educate graduate students of the Advanced Education Program in Prosthodontics to perform research and practice teaching. |
| Goal 4 | To encourage students to participate in prosthodontic dental teaching and prepare them to continue to grow professionally and become emissaries for the school of dentistry, the dental profession, and the specialty of prosthodontics. |
Graduate Prosthodontics Clinic waiting room (left) and reception desk (right).
Two Master's Degree Tracks Available
Loma Linda University School of Dentistry offers two master's degree tracks for graduate students/residents enrolled in the advanced education certificate programs.
Master of Science (MS) degree track
The Master of Science (MS) degree track can be invaluable to students who wish to pursue an academic career in clinical dentistry, research, and teaching. The didactic and clinical components of the certificate program fulfill the academic requirements for the MS degree. Candidates must be admitted to the Faculty of Graduate Studies (FGS), conduct a graduate level research project, write a thesis, and hold a public thesis defense. Students have five years from the date of acceptance of the certificate program to complete the requirements for the MS degree.
Candidates who meet the admissions requirements must submit an application to FGS through the Office of Advanced Dental Education and that application must be supported by the applicant's program director.
Master of Science in Dentistry (MSD) degree track
Graduate students/residents may elect to apply for the Master of Science in Dentistry (MSD) degree track.  The MSD degree track is intended to provide individuals with an advanced degree widely recognized as having completed a dental specialty program.  Applicants must be recommended for admission to this degree track by their program director and subsequently approved for admission by the Assistant Dean for Advanced Education. The MSD degree is awarded upon successful completion of the certificate program, completion of an approved graduate research project, and submission of a report of that research project in the form of a publishable paper in the format of a journal selected by the candidate and approved by the program director.  Candidates must also hold a public presentation of their research in a format similar to a thesis defense.  All the MSD requirements may be complete during the program but no later than one year from the candidate's program completion date.
Graduates of the certificate, MS degree program, and MSD degree program are educationally qualified for certification by the American Board of Prosthodontics.
| | |
| --- | --- |
| | |
| Operatory in the Graduate Prosthodontics Clinic. | Surgical operatory in the Graduate Prosthodontics Clinic. |
Application and Admission Process
Loma Linda University Application - Applicants for the Prosthodontics Program must complete a direct Loma Linda University application.  LLU online application
Postdoctoral Application Support Service (PASS) - The Advanced Education Program in Prosthodontics participates in the PASS application service of the American Dental Education Association (ADEA) allowing applicants to apply to multiple participating institutions using one standardized format. PASS applicants for the Prosthodontics Program must ALSO complete a direct Loma Linda University application.  PASS application
Electronic application submission - The application process must be completed online and only applications with all the required supporting documents will be reviewed for admission. Online application
Advisory to Applicants - To ensure prompt posting of your required supporting documents, complete your application before you request transcripts and test scores.
Invitation to interview - All complete applications that meet the minimum admissions requirements are reviewed (refer to Admissions Requirements below). The top candidates are invited for an interview by a selection committee composed of department faculty and outside faculty/administrators and chaired by the program director. A laboratory practical and treatment planning evaluation are included in the evaluation process. Interviews are held in October.
Admissions decisions - The program director presents the list of nominations for admission (with alternates) for discussion and approval by the graduate admissions committee. The committee meets monthly, and candidates will be notified of a decision as soon as possible.
Acceptance - Candidates offered acceptance are required to submit a nonrefundable electronic deposit of $1,000 to hold a place in the entering class. These funds will be applied towards tuition and fees for the first quarter of study.
Background check - Accepted students must complete a background check in order to register and begin the program.
Health Clearance Information and CPR Training for Incoming Graduate Students and Residents - All individuals accepted into an Advanced Education Program must receive a health clearance from Student Health Service before they are permitted to start their program. A health clearance includes passing a PPD (tuberculosis), Hepatitis B, and MMR (measles, mumps, and rubella) test. In addition, all incoming graduate students/residents also must undergo Health Care Provider CPR (cardiopulmonary resuscitation) training and obtain certification prior to the start of their program.
How to obtain information regarding policies on blood-borne and infectious diseases:
Federal OSHA (www.osha.gov) In search menu type: Bloodborne Pathogens 1910.1030
State Cal/OSHA (www.dir.ca.gov) In search menu type: Bloodborne Pathogens Standards 5193
Admissions Requirements
The following information and documentation are required for all applications to the Prosthodontics Program:
1.  Transcript(s) - from all post-secondary institutions from which the applicant received credit whether or not the work pertains to their LLU degree.  Only official transcript(s) will be accepted.  An official transcript is one that is submitted directly from the school, college, or university to Loma Linda University.  Transcripts that are hand-carried or mailed by an applicant, even if in a sealed envelope, cannot be considered official and will be recorded as still missing.  Transcripts should be mailed directly to: Admissions Processing, 11139 Anderson Street, Loma Linda University, Loma Linda, CA 92350.
Applicants who have transcripts from non-US dental schools must submit a translated course-by-course transcript report from one of the following agencies (See International Transcript Information):
* If ordering an evaluation from WES, the applicant should select Loma Linda University from the drop-down list of recipient institutions as opposed to writing in an address. LLU does not need the additional ICAP service from WES. If their WES report is only for LLU the applicant should order the basic (non-ICAP) course-by-course report.  The electronic WES report to LLU will already include copies of the evaluated documents, however these document copies are not the Official transcripts/mark sheets that LLU requires to be sent directly from the issuing institution.
2.  Official Degree Certificate (for all international applicants) - Any foreign transcript (or mark sheet) that does not list on it the graduation information, including the actual degree earned, must be supported by an official degree certificate or school-verified copy of the degree certificate mailed directly from the issuing institution to Admissions Processing, Loma Linda University.
Applicants who are uncertain as to whether or not their transcript lists graduation information and degree earned should contact their school before requesting a separate degree certificate.
3.  GPA and Class Rank - A cumulative grade point average (GPA) of 3.0 or higher. Applicants should request the dean of their dental school to provide a letter with their official GPA and class rank.
4.  National Board Dental Examination (NBDE) - Successful completion of the National Board Dental Examination Part I and Part II (when available) is required of U.S. trained applicants. Part I must be submitted by the application deadline and Part II results are to be submitted when available.  Please allow plenty of time for NBDE score report requests to be processed by the ADA.  We cannot accept NBDE scores reported in a Dean's letter as an official report of test results.  Request NBDE scores
5.  English Proficiency Exam - Regardless of nationality or citizenship, an applicant whose native language is not English or whose secondary education has been given outside the U.S. is required to pass one of the following English proficiency tests:
TOEFL scores are valid for two years from the test date.  The institution code for Loma Linda University is 4062. TOEFL minimum scores are: 80 - Internet-based test , 550 - Paper-based test, including a minimum final score of 5.0 on the TWE part (Test of Written English)
IELTS scores are valid for two years from the test date. LLU minimum score is 6.5
MELAB LLU minimum score is 77
6.  Letters of recommendation - Three letters of recommendation from individuals who have known and worked closely with the candidate are required in support of an application.  Letters of recommendation are valid for no more than two consecutive years for the same program.  Letters of recommendation also must be program specific (ie, support an applicant for the actual program to which he/she is applying).  Electronic notifications to the recommenders are sent out after submitting the online application.  Alternatively, an applicant applying to the program through PASS may use their Personal Potential Index (PPI) evaluation report, Professional Evaluation Forms (PEF), and Institutional Evaluation Form (IEF) for their LLU application as well.  Applicants who would like to use their PASS letters of recommendation should leave the recommendation section of their LLU online application blank and after submitting the application, the PPI evaluations will be matched up.
7.  Curriculum Vitae - Applicants must include their curriculum vitae sent electronically with the online application or mailed directly to the Office of Advanced Dental Education.
Important Instructions for the Transmittal of Official Documents:
All official documents must be mailed from the issuing institutions. Applicants must not mail originals or official copies of transcripts, GRE scores, National Dental Board scores, and TOEFL scores themselves.
An application is not considered complete until all required supporting documents have been received. Only completed applications go to committee for consideration. This policy holds true for both U.S. and non-U.S. applicants. So please apply early.
| | |
| --- | --- |
| | |
| Graduate Prosthodontics lab. | Mick Ilich, CDT, in-house ceramic technologist, Advanced Specialty Education Program in Prosthodontics and the Advanced Education Program in Implant Dentistry. |
Tuition and Fees
Tuition and fees for the 2015-16 academic year (effective July 1, 2015) are $15,862.00 per quarter.  Tuition is adjusted annually every July 1st. These fees do not include instruments and textbooks that may be required.
Required courses for the Prosthodontics Program can be found in the University Catalog.
Fellowship in Prosthodontics
Dentists who have completed specialty training in any ADA recognized specialty program may apply for a Fellowship in Prosthodontics.  This program is one year in length and participants attend didactic courses with degree students and treat patients in the Graduate Prosthodontics Clinic.  Patient situations are selected by the director of the Advanced Specialty Education Program in Prosthodontics that are appropriate for the one year period of study.  This program typically begins on July 1 and terminates at the end of June the following year.  Admission is at the discretion of the program director and enrollment is limited.
Cost for the Fellowship Program:
Participants pay the same tuition and fees as degree students for the four quarters of their study.
Externship and Internship Programs in Prosthodontics
The externship and Internship programs are designed to provide general dentists an opportunity to expand their knowledge and understanding of prosthodontics and implant dentistry.  Trainees attend didactic courses, literature seminars, and interdisciplinary treatment-planning sessions but do not treat patients.
Training typically ranges from one month to several months (externship) or as long as twelve months (internship).  In the Graduate Prosthodontics Clinic the activity of interns and externs is limited to clinical assistance and observation.
Participants can expect to obtain training in the following areas:
Clinical assistance and observation in basic and advanced procedures in prosthodontics
Clinical assistance and observation in basic surgical procedures in implant dentistry
Attendance in didactic core courses common to other graduate programs
Attendance in didactic courses exclusively related to graduate prosthodontics
Participation in clinical and/or laboratory research in prosthodontics (optional)
Cost for Externships and Internship (adjusted every July 1st):
1 month or less = 1/3 quarterly tuition
Up to 2 months = 2/3 quarterly tuition
Up to 3 months = full quarter's tuition
One year = full tuition for four quarters
Application: THE APPLICATIONS BELOW ARE FOR NON-DEGREE STUDENTS ONLY and are not to be used for anyone applying to the certificate program. Please select the correct application below: