Lindsay Landis, DH '05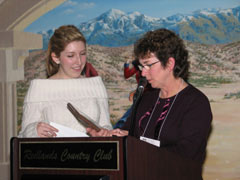 Kris Wilkins, DH '80 presents the 2005 dental hygiene student of the year award to Lindsay Landis of the class of 2005 during the dental hygiene and assistants homecoming luncheon.
Prior to announcing Lindsay as the recipient of the dental hygiene student of the year, Kris gave this introduction:
"Professor Joni Stephens, DH '69, says she was born to be here at Loma Linda University School of Dentistry! Coming from a long history of family members associated with LLUSD, she has managed in less than two years to enhance that family tradition even more."
"She's met the Dean's list criteria all quarter of DH. She receives top instructor evaluation grades every quarter. She's an officer in her senior class helping to plan FUN events! She is a positive, analytical (that's Joni's word), and compassionate clinician. I hear the mission trip to Ukraine wouldn't have been the same without her...And not to put any pressure on her for success, but we also hear that a D3 student has had her attention for a few years now---the dynasty continues!"