Desteen Stroh, DH '06
Student of the Year
School of Dentistry Alumni Association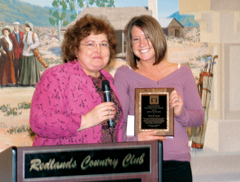 Darlene Cheek, Assistant Professor (left), presents the Dental Hygiene Student of the Year Award to senior Desteen Stroh.
Desteen Stroh, a senior dental hygiene student, was named dental hygiene Student of the Year during the dental hygienists and assistants homecoming luncheon on Friday, February 10. Desteen first learned about the dental professions as a child--she grew up observing her father--dentist. Before entering the dental hygiene program at Loma Linda, she became a dental lab technician. She also earned her x-ray license and provided dental assisting duties to the dental hygienists in her father's practice. She chose to attend the School of Dentistry because of the Christian education offered at Loma Linda. Desteen is a hard worker with a positive attitude.
A leader, she serves as community service representative for her class. She is an exemplary role model for young people. The plaque awarded to her reads: "LLU Dental Hygiene Alumni Association presents the Student of the Year Award to Desteen Stroh, who represents the highest quality of excellence in a student. Her quiet spirit, organization, ambition, professional attitude, and willingness to go beyond what is expected will make her highly valued as a dental hygienist. Loma Linda, California, February 10, 2006.