Karen Simpson, MPH, RDH '66
2001 Dental Hygiene Alumnus of the Year Award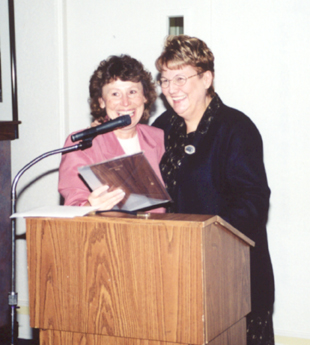 Joni Stephens, MS, RDH '69 (left) presents Karen Simpson with the Dental Hygiene Alumnus of the Year Award.
Karen Simpson, DH '66, department chair, dental hygiene, was named Dental Hygiene Alumnus of the Year during the luncheon on February 9, 2001 at the Redlands Country Club.
Karen has been involved in dental hygiene for over 30 years. She earned her masters degree in public health in 1978 and has worked in public health settings. She also worked at a private practice where it was said that "her employers and patients adore her." For the past six years, she has devoted her energy and dedicated countless hours to education as the chair of the dental hygiene department at Loma Linda.