Senator William Emmerson, SD '80, MS '82
2012 Distinguished Alumnus Award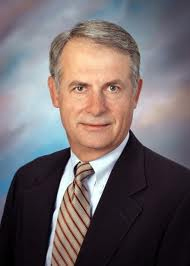 Senator William Emmerson, DDS, MS was named the 2012 Distinguished Alumnus of the Year during the 52nd Alumni-Student Convention on February 9, 2012.
A history and political science major at La Sierra University, Dr. Emmerson's earliest career track found him working as an aide to Congressman Jerry Pettis and then as a staffer for the State Assembly minority leader in Sacramento, before pursuing what Dr. Steven Morrow called "a real job" at the Loma Linda University School of Dentistry, from which he earned a DDS degree in 1980 and an MS in orthodontics two years later. Dr. Emmerson then established and maintained an orthodontic practice in Hemet, California for 26 years.
When he was no longer able to ignore his interest in politics, Dr. Emmerson ran successfully for the California State Assembly's 63rd District in 2004; and when he was term limited in 2010, he won the State Senate seat for District 37, geographically California's largest district and one that includes his dentistry alma mater.
In presenting Senator Emmerson with the School's Distinguished Alumnus Award, Dr. Morrow said: "Assemblyman and Senator Emmerson has been, and will continue to be, a friendly voice in Sacramento for health care in California. He has authored legislation that has significantly impacted both health care providers and recipients over the past eight years. He has received numerous awards from state law enforcement and health care organizations."