Raymond D. Rawson, SD '68, MA
2005 Distinguished Alumni Award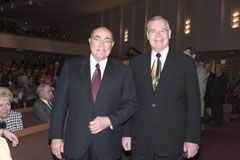 Raymond D. Rawson, DDS, MA of the Class of 1968 was named Distinguished Alumnus of the Year during the 45th Alumni-Student Convention on February 12, 2005. 
Raymond Rawson is a 1968 graduate of Loma Linda University School of Dentistry. While a student, he conducted research on gold flow, and placed first in the student table clinic presentations. Dr. Rawson returned to Loma Linda this year to judge the current student table clinics. 
As a member of the Nevada State Senate since 1985, Dr. Rawson was the major influence in starting the new school of dentistry for the University of Nevada Las Vegas. This school bears Dr. Rawson's imprint of excellence in facilities and scientifically-based teaching.   
With a masters of arts in physical anthropology and a certificate in forensic odontology, Dr. Rawson joined the forensic team involved in the 1980 MGM fire in Las Vegas and the Sioux City airplane crash in 1989. He has been the recipient of numerous awards and honors, including the 2003 Public Service Award from the Nevada Healthcare Association and the Shining Star Award for Leadership from the Nevada Tobacco Prevention Coalition. 
Dr. Rawson and his wife have seven children, with whom he participates in Boy Scouts of America, the YMCA, and the United Way. His hobbies include photography, woodworking, and sports.