Judson Klooster, DDS, MMS and Arlene Klooster, RN, RDH '71
2001 Dental Hygiene Alumnus of the Year Joint Award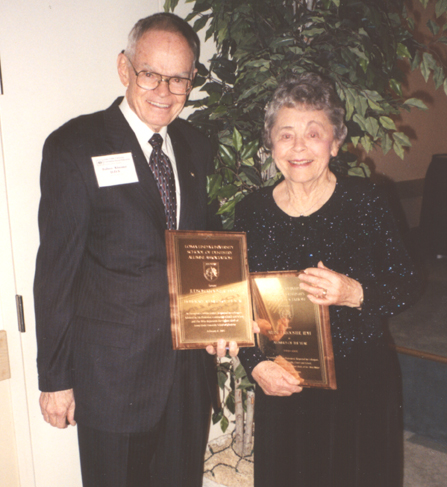 Judson Klooster, DDS, MMS, dean emeritus, and his wife Arlene Klooster, RN, after receiving the Alumni of the Year award during the 41st Annual Alumni Student Convention Homecoming banquet.
Judson Klooster
Dr. Klooster served as the dean of the dental school for over 20 years. A graduate of the University of the Pacific in 1947, Dr. Klooster was made an honorary alumnus of Loma Linda University, School of Dentistry on February 8, 2001. In 1968, he came to LLU as a full-time faculty member and director of continuing education. Dr. Klooster was named associate dean for academic administration in 1969. Two years later, he succeeded Charles T. Smith, DDS, as dean of the School of Dentistry.
Dr. Klooster remains involved in national and international organizations serving as a consultant and contributor to many projects benefiting both the dental profession and the Seventh-day Adventist Church. Dr. Klooster is a past president of the Tri-County Dental Society, the American Fund for Dental Health, and the Rotary Club of San Bernardino Crossroads. He has received many honors and has made significant contributions to dental literature.
Arlene Klooster
Arlene Klooster met her future husband while attending Pacific Union College. In 1948, she received her RN degree from White Memorial Hospital (now White Memorial Medical Center) in Los Angeles. The Kloosters settled in Escondido where Mrs. Klooster became heavily involved in the activities of the Seventh-day Adventist Church and school. She also served her church for many years as an organist. The Kloosters raised three daughters: Cherylin, Lynette, and Terri.
The Kloosters moved to Loma Linda when Jud became a full-time faculty member of the School of Dentistry. Dean Charles T. Smith, DDS, encouraged Arlene to pursue a degree in dental hygiene. In 1971, she graduated from the school with a bachelors of science degree in dental hygiene. She also served as president of her senior class. Mrs. Klooster practiced in various dental offices throughout the Inland Empire.