Gerald E. Denehy, SD' 68, MS
2003 Distinguished Alumnus Award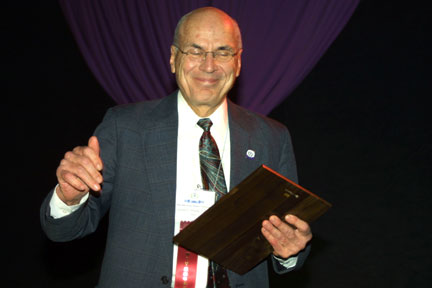 Gerald E. Denehy, SD '68, MS, receiving the Distinguished Alumnus Award.
Gerald E. Denehy, DDS, MS of the Class of 1968 was named Distinguished Alumnus of the Year during the 50th Anniversary Commemorative Celebration on February 9, 2003.
Dr. Denehy is operative dentistry graduate program director at the University of Iowa College of Dentistry where he previously earned his master's degree in operative dentistry. He was chosen for this award because of his contributions to dentistry and dental science and for his service to humanity. Dr. Denehy is the author of a textbook and more than 100 articles on operative dentistry. His broad clinical experience and direction of research interests are primarily in the area of composite resins and dental bonding. In addition to full-time teaching responsibilities, he conducts a private practice devoted primarily to esthetic dentistry.
Dr. Denehy is on the editorial board of several dental publications and serves as a consultant to many dental manufacturers. He has lectured widely both nationally and internationally on topics of composite resins and esthetics. His teaching honors include multiple teacher of the year awards from dental students, the Gordon Christiansen Lecturer Recognition Award, and the Iowa Dental Educator of the Year Award.
If you would like to suggest a graduate of Loma Linda University School of Dentistry as a possible candidate for the Distinguished Alumnus Award please contact the dental alumni office at:
LLU School of Dentistry
Alumni Association
Loma Linda, California 92350
Phone: (909) 558-4399
Fax: (909) 558-4858
Email: jlfowler@llu.edu