Carlton Lofgren, SD '61
2011 Distinguished Alumnus Award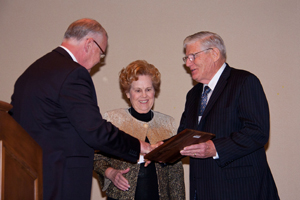 Carlton Lofgren, SD '61 and Raye Lofgren, receiving Distinguished Alumnus Award from Charles Goodacre, SD '71, MSD
Dr. Lofgren's unique background and willing spirit made him the perfect candidate for this award. When he was a senior in dental school, he received both the Restorative Dentistry Award for his clinical skills and the President's Award for his leadership abilities.
Carl went into private practice for ten years following graduation, while serving on the School of Dentistry faculty. He was active in teaching gold foil technique, and was a member of the Gold Foil Club.
He has served as elder for the Arlington Seventh-day Adventist Church. He is currently serving on several church committees at the Loma Linda University Church, (LLU Church) including on the Fundraising Committee for the University Church Chapel.
In 1971, Dr. Lofgren joined the family egg business as (Egg Factory) Operations Vice President, and then became Executive Vice President, and was named President in 1991. He served on the Board of Directors of the National Egg Board for 12 years, and was appointed President of the National Egg Board in 1999 to 2001, when he received the Producer of the Year National Award.
He contributes to his community also, and served on the Mission Savings Bank Board from 1988 to 2004.
In 1991, he was invited to join the Loma Linda University Councilors, where he served as president from 1999 to 2000. He became a member of the Loma Linda University Board of Trustees in 2001, and has been invited to remain on that Board through 2012.
Carl and his wife, Raye, took on the complex role as co-chairs of the University Committee (Centennial Complex) to fund the Centennial Building, which opened in 2009. This magnificent building was built with over $50,000,000 in donations, raised with the campaign managed by Carlton and Raye and another couple.
He states that his most important accomplishments are his three children and nine grandchildren. His children have presented him with the very prestigious awards of "Best Daddy in the Whole World" and "Father of the Year." These are the awards he most cherishes.